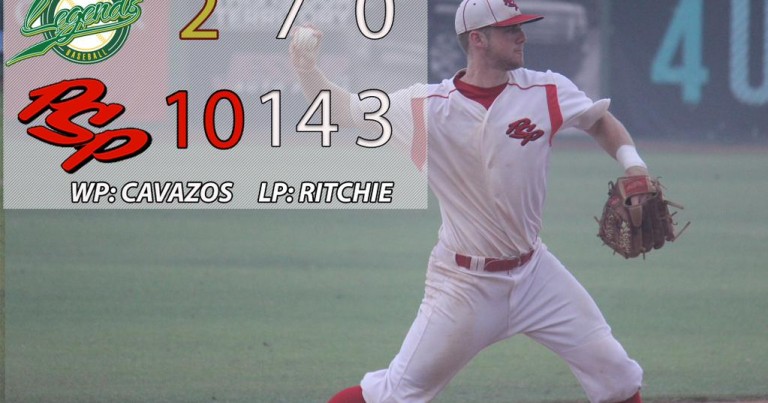 By: Andy Humphrey
PALM SPRINGS, Calif. – The Palm Springs POWER outlasted the Menlo Park Legends 10-2 by pouring on some late runs in the first of a three-game series Friday at Palm Springs Stadium.
Angel Delgado started on the mound for the POWER, lasting four and two-thirds innings, allowing just one unearned run on four hits. He lowered his ERA to 0.82 in his fourth start of the year. Matt Valencia relieved him in the fifth and allowed just one unearned run on one hit through one and two-thirds innings.
Runs came at a premium early in the game, and the POWER were the first to inch ahead in the second inning. Jonathan Serven delivered a long RBI double to left field, scoring Andrew Paz from first base.
Menlo Park tied the ballgame at 1-1 in the fourth inning, but the POWER answered back in the bottom of the fifth. Zach Davis led off with a double down the left field line. The next batter, Kobie Foppe, drove him in on a single up the middle.
Yet again, the Legends managed to find a run to tie the game at 2-2 in the sixth inning. The Legends threatened to take the lead in the seventh, with runners at first and third. Jordan Cavazos entered the game to pitch for the POWER and prevented a squeeze bunt run by making a great defensive play to nab the runner at home plate. Cavazos kept the Legends scoreless throughout the rest of the game en route to his fourth win of the season, a team best.
In the bottom half of the inning, the POWER retook the lead thanks to a pinch-hit RBI double by Miles Bice, scoring Davis.
But the POWER bats were far from done. In the eighth, they put the game well out of reach by adding seven runs on six hits, with eight consecutive batters reaching base. Daniel Sander, Foppe, and Connor Hornsby each had two-run RBI hits in the inning.
With the win, the POWER improved to 16-6 on the 2015 season. They will face the Legends again Saturday, with first pitch scheduled for 7:05 p.m. at Palm Springs Stadium. Kids admission is just $2 for the game Saturday, courtesy of Desert Air Conditioning.