PALM SPRINGS, CA – The Palm Springs POWER improved to 8-2 with their seventh straight win Wednesday night, defeating the Santa Maria Valley Packers 11-0 at Palm Springs Stadium. It was Senior Night at the ballpark, and the crowd stuck around to watch the POWER break open a close ballgame late, putting six runs across in the 7th and three in the 8th.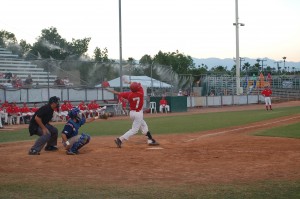 Donuts scattered the scoreboard for the first nine half-innings, before the POWER put up the first run of the game in the bottom of the 5th on an RBI-single by Curtis Gomez (SO, University of the Pacific), his eighth of the season– scoring Carney Chamberlain (SO, Contra Costa College).
The POWER scored again in the 6th, when Evan Boyd (JR, Mercer University) crossed the plate on one of Ryan Jones' (JR, Ventura College) two singles. Jones now leads the team in RBIs with 10.
The game remained close, and the crowd tense, until the POWER exploded for six in the 7th. The Packers allowed the half-dozen in large part due to three walks, two hit-by-pitches, three wild pitches, and two passed balls, but clutch hits like the 2RBI-triple from Marcus Romero (SR, Southern Utah University) cemented the big inning for the hometown squad.
The POWER scored thrice more in the eighth and kept the Packers off the board, scattering their seven hits effectively.
Southpaw Jason Kalber (JR, Indiana-Purdue Fort Wayne) impressed, picking up his second win of the season in his first start with 5.1 innings of no-run ball, allowing six hits while striking out four. The most impressive arm on the mound for the POWER, however, was that of Scott Simmons (JR, Mt. San Jacinto College) who threw 2.2 hitless innings in relief, stranding two inherited baserunners in the 6th and striking out six straight batters in the 7th and 8th innings.
POWER catcher Carney Chamberlain put together a season-high three-hit performance Wednesday, going 3-for-5. He also scored twice.
The Palm Springs POWER have the day off Thursday, playing their next home game on Friday, June 17, at 7:05 pm against the Nor Cal Longhorns. The POWER will host the Longhorns for a two-game series on Friday and Saturday, before returning to SCCBL play on Sunday, at home, against the So Cal Athletics. The gates at Palm Springs Stadium will open at 6:00pm on Friday. All POWER games can be heard live on www.PSPBB.com, with select games simulcast on NewsTalk 920 KPSI Palm Springs.