The Palm Springs POWER got another prolific pitching performance on June 22 with a phenomenal outing from Power pitcher Corey Black. The POWER were also threatening on the offensive side of the game plating 14 runs on 15 hits to beat the East L.A. Dodgers 14-2.
Black, the right-hander from San Diego State University improved to a team best 3-0 record on the season. The San Diego native went four innings, striking out seven, surrendering just one run. However, the most notable number of the night was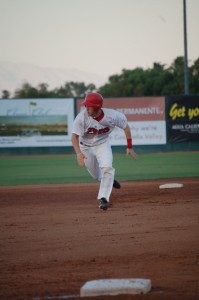 Black's fastball, which topped out at 96 mph. Black's average fastball stayed in the 94-95 mph range all night, as he bewildered the East L.A. Dodgers batters. The POWER also got a solid pitching performance from starter Kayvon Bahramzaddeh. The right-hander from Kansas State went four innings, striking out two, allowing two hits, and one earned run.
On the offensive side of the ball, Keenyn Walker had the drive of the night with a deep triple to right field knocking in one run. Along with Walker, Chris Wilson of San Diego State had another great outing, going 2-3 with double, batting in three runs to go along with his three runs scored. On the defensive side of the ball, Brandon Macias, who went 3-4 with two rbi's made a gasping play at second to end the inning in the second. Macias  made a diving play at second to rob East L.A. Dodgers player Peter Abrams, flipping the ball to second baseman Zack Haley with his glove, who then barehanded it over to the first basemen to get the final out of the inning.
The POWER return to action again on Wednesday night June 23 when they look to take the one-game series against the Los Angeles Thrashers at Palm Springs Stadium.  First-pitch is set for 7:05 PM and the gates open up at 6:00 PM.  The POWER will be celebrating Ladies Night at the Ballpark, offering ladies $5 admission to get into the ballpark.
The night will include an appearance from the All American Girls Baseball League and will include the opportunity to win promotional giveaways from Hair It Is (Palm Desert) and Cactusberry (Palm Springs).