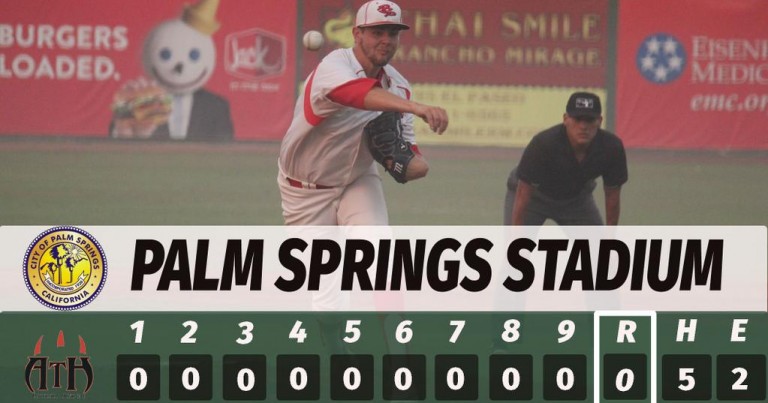 By: Andy Humphrey
PALM SPRINGS, Calif. – In one of the closest games of the entire season, the Palm Springs POWER managed to grab a 1-0 victory in the opener of a two-game series Friday against ATH Academy at Palm Springs Stadium.
The POWER benefitted from another great pitching performance from right-hander Keaton Cenatiempo. The hurler from BYU tossed seven and a third innings, allowing no runs on just four hits, all of which came in the first two innings. Cenatiempo added six strikeouts and only two walks in his third start of the year. With his stellar performance, he dropped his ERA to 0.75 for the season.
After Cenatiempo left the game, the bullpen kept ATH Academy scoreless through the rest of the game. Jordan Cavazos entered with runners on first and third with just one out in the top of the eighth. After a base-runner stole second base to put runners at second and third, Cavazos caught a line drive from the batter and fired to third base to double up the lead runner and end the ATH scoring chance.
In the ensuing half-inning, the POWER broke the scoreless deadlock. Tyler Finkler drew a leadoff walk and advanced to second on a sacrifice bunt by Nick Jackson. Two batters later, pinch hitter Miles Bice was able to reach first base on an error by the first baseman. During the play, Finkler raced home and scored as the second baseman threw the ball over the catcher's head.
Cavazos finished the job in the ninth inning, sitting down the ATH batters in order. He allowed no runs and no hits in one and two-thirds innings and now holds a team-best 3-0 record in 2015.
The POWER improved their overall record to 12-5 on the season and are now 4-0 in one-run games this year. They will take on ATH Academy again Saturday at 7:05 p.m. at Palm Springs Stadium.