Palm Springs, CA – The POWER were able to hold on and defeat the Nor Cal Longhorns by the score of 2 – 1Friday night.  The victory was the perfect gift for all of the POWER host families in attendance who make each season possible by opening their homes to POWER players and interns.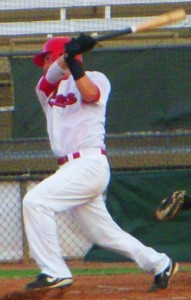 Runs were hard to come by tonight, but the POWER were able to scratch out an run early as an error on a double steal allowed Keenyn Walker to come all the way around from second to score.  Later in the fifth, John Haberman singled to bring in Chett Zeise for what would prove to be the winning run in tonight's contest.
The Longhorns would try to mount a comeback late in the game when a Jessie Madrid single brought the score to 2 – 1, but ultimately the POWER quartet of Brandon Love, Dustin Ispas, Jacob Nelson, and Corey Black would prevail as they were able to combine to hold the Longhorns to just one run.  Dustin Ispas, who blanked the Longhorns from innings five through seven, was awarded the victory as Corey Black was credited with the save.
The POWER will be back in Palm Springs Stadium tomorrow night to take on the Nor Cal Longhorns once again.  First pitch is scheduled for 7:05 pm and the gates will open at 6:00 pm.  Saturday night is Faith Night, and the POWER Organization is looking forward to seeing various church groups from the greater Palm Springs area in attendance. All who bring a church bulletin or similar brochure will be granted $5 admission to the game.