Just one night removed from being handed their first loss of the season, the Palm Springs POWER got revenge on the San Francisco Seals by defeating them 5-0.  The victory evened up the three-game weekend series 1-1 and improved the POWER to 11-1 overall.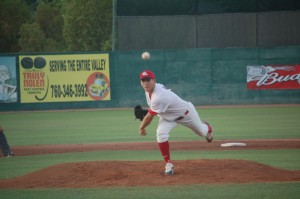 The POWER got a tremendous combined pitching performance from Craig Rasmussen and Ismael Gutierrez.  Rasmussen started the game and cruised through six innings while surrendering just four hits, allowing no runs, no walks and striking out three.  The performance was enough to get him the win.  Gutierrez relieved Rasmussen in the seventh and came in bringing the heat.  Gutierrez dealt through three innings, striking out seven out of the nine batters he faced while allowing no hits and no runs.  Gutierrez walked just one batter, who was erased on a double play hit by the next Seals' batter.
The POWER offense came alive in the fifth inning, scoring Brett Hambright on a Keenyn Walker RBI-single.  The POWER followed with two runs in the sixth and two more in the seventh.  In the sixth, Zack Haley scored on a wild pitch during Marcus Romero's at-bat.  Brett Christopher was later driven in on a Chris Wilson sacrifice fly.  When the POWER struck in the seventh, Haley and Christopher were at it again with back-to-back RBI's to give the POWER a five-run cushion.
The POWER return to action again on Sunday night when they look to take the rubber match against the San Francisco Seals at Palm Springs Stadium.  First-pitch is set for 7:05 PM and the gates open up at 6:00 PM.  The POWER will be celebrating Father's Day at the ballpark.  All fathers who come to the game with their children will be given a discounted $5.00 admission.
For stats from the game, click here