The Palm Springs POWER lost for the first time all season on Friday night, falling to the San Francisco Seals by a final score of 5-4.  The loss moved the POWER record to 10-1 overall but they remain unbeaten in SCCBA play at 7-0.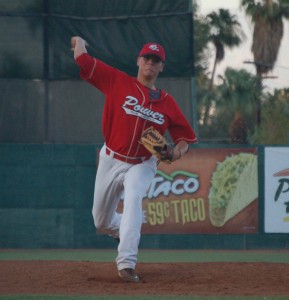 The POWER opened the scoring in the bottom of the 5th on a Jake Brown sacrifice fly that scored catcher Chris LeFay.  The Seals answered with a 2-run seventh inning but the POWER were able to tie things up in the bottom half of the inning when Chett Zeise walked with the bases loaded to score pinch-runner Keenyn Walker.
The POWER got a very impressive outing from starting pitcher Aaron Brooks, who dealt for seven innings, giving up just two runs on five hits while striking out six.  Brooks was relieved by Jacob Nelson in the eighth, who was then relieved by Gabe Aguilar. 
The Seals put up a three-spot in the eighth and took a 5-2 lead into the ninth inning.  The POWER put together a rally in the ninth, scoring Jake Brown and Brett Christopher on a Chris Wilson single.  Unfortunately for the home team, that was all the scoring they could manage.
The POWER return to action and look to improve to 11-1 on Saturday night at Palm Springs Stadium when they look for revenge on the San Francisco Seals.  First-pitch is scheduled for 7:05 PM and the gates open up at 6:00 PM.  The POWER will be celebrating Concierge Night as well as Cathedral City Youth League Night at the ballpark.
 Click on the "gameday stats" tag to see stats from this game, and the "Season stats" tag to see stats so far from this season.