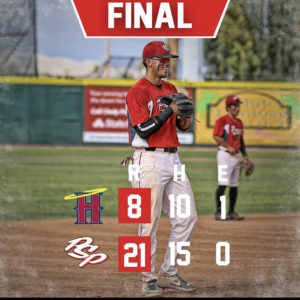 Palm Springs – The Palm Springs Power took down the SoCal Halos 21-8 on Friday night. The win pushed the Power win streak to nine in a row.
Palm Springs made noise in their half of the first. The Power sent eleven batters to the plate, notching six runs on seven hits. Ryan Rodriguez, Kyle Casken, Izayah Alvarez and Josh Hernandez all brought home runs.
The Halos responded with a four-run top of the second to tighten the ballgame while batting around. Runs continued to exchange. Rodriguez doubled home another in the third.
After surrendering two in the fourth, the Power led 9-6. With two on in the bottom of the fifth, Bryan Leef turned around a 1-2 changeup up in the zone for his second home run of the year off Halos' reliever Danny Felix. The three-run shot sent the Power into double-digit runs for the eleventh time in sixteen games. They led 12-6.
Palm Springs went on to their largest offensive night of the year. They take game one of the series with the finale Saturday night at 7:05 PM. Tickets are available at the Palm Springs Stadium box office.