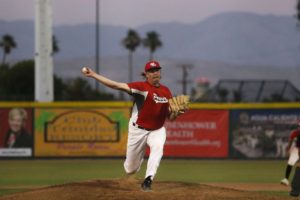 Palm Springs – The Palm Springs Power edged past the Arroyo Seco Saints in their first meeting of the year with a 4-3 victory. Palm Springs remains undefeated four games into the season.
The Power got the offense started early with a three-spot in the first. Jacob McCaskey plated a pair with a two-run triple. He would score one batter later on a Justin Mazzone infield single for the 3-0 lead.
The Saints battled back with a pair of runs in the fourth and the tying run in the fifth. Starter Drew Clavenna looked strong in his five innings of work, with three earned, no walks and seven strikeouts.
The Power regained the lead for good on an RBI groundout from Casey Kleinman to bring home Izayah Alvarez in the sixth. The bullpen of Brett Finnel and Hunter Holmes tossed four shutout innings to lock down Palm Springs' fourth win to open the year.
The Power and Saints meet to wrap up the two-game set on Saturday night at 7:05 PM, gates open at 6:00 PM. Tickets are available at the Palm Springs Stadium box office.