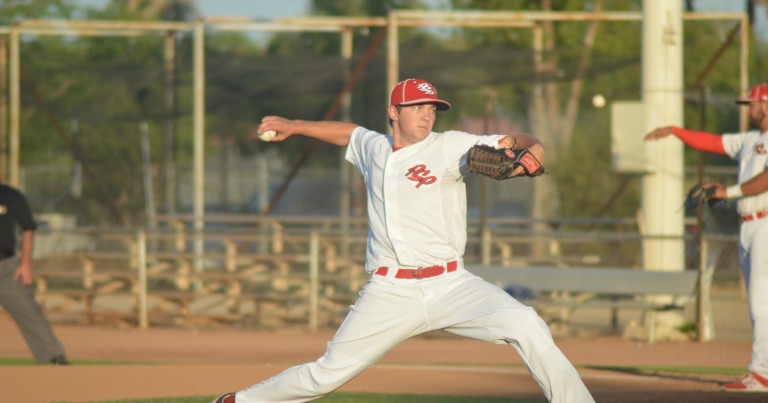 By Alex Gratys
PALM SPRINGS, Calif. – The Palm Springs POWER advanced to 5-0 on the year following a 5-3 victory over the San Francisco Seals on Wednesday evening.
Chico State University righty Steven Baker made his POWER debut, tossing five innings, allowing three runs while striking out seven following a rocky first inning. After the Seals got two men on, right fielder Michael Lagier hit an RBI single to put San Francisco up 1-0 early. Seals shortstop TJ Kassner then drove in Cal Koga on an RBI single of his own to put the Seals up 2-0. Baker would settle in, only allowing one more run in the fifth, but left with the game tied.
The POWER had a big third inning thanks to a sacrifice fly by Taylor Grace (Michigan State) and Cody Ducote (University of New Orleans) reaching home safely following a botched play by the Seals' infield to take a 3-2 lead. The Seals fought back in the fifth thanks to an RBI single from John Segovia to tie things up at 3-3.
Palm Springs would take the lead in the seventh after Ryan Mota (Riverside City College) scored on the second balk from Seals reliever Moises Lopez. John Mauldin (Baton Rouge Community College) would follow that up with an RBI triple to put the POWER up 5-3.
It would be all POWER from there as relievers Zack Novis (University of St. Mary's), Sawyer Gipson-Long (Mercer) and Andrew Kane (Mercer) all made their 2017 debuts and shut the door on the Seals offense to help their team advance to 5-0 this season.
The POWER will begin SCCBL conference play for the first time this year as the Riverside Bulldogs come to town on Friday for a three-game set. The action begins at 7:05, be sure to grab tickets and spend this weekend with the POWER!
POWER Stats