Palm Springs, CA – The Palm Springs POWER would not let up tonight, beating the Nor Cal Longhorns 14 – 5 Saturday night.  With the win, the POWER bring their overall season record to an astonishing 32 – 2 as they keep pace to break their record winning percentage of .848 which was set back in 2006.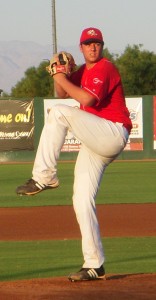 The Longhorns took an early 3 – 1 lead but the POWER battled back to tie it at three on the strength of a Chris LeFay single in the fifth.  Later in the seventh, the POWER blew the game wide open by punishing a couple of Longhorn errors that led to four runs.  Brandon Macias also contributed to the big inning by knocking a two-run single scoring Marcus Romero and Keenyn Walker, bringing the score to 9 – 3.
An inning later, the Longhorns would draw a little closer by scoring two runs in the top of the eighth but it would be to no avail.  A five-run POWER inning, fueled by a Keenyn Walker RBI single and a Jacob Nelson two-RBI single, put the game out of reach at a score of 14 – 5. Bryan Dalton, who pitched 1.2 innings across the seventh and the eighth, was credited with the win and Kesley Kondo was awarded the save.
The POWER will be hosting game one of the SCCBL Playoffs on Tuesday, July 20.  The POWER, the No. 1 seed, will be facing off against the O.C. Pioneers, the No. 2 seed.  The winner of the best-of-three series will be crowned the champions of the SCCBL.  First pitch is scheduled for 7:05 pm and the gates will open at 6:00 pm. Tuesday is also dollar beer night, where fans can enjoy refreshing Bud and Bud Light drafts for only one dollar through the seventh inning.
In community news, the Big Brothers, Big Sisters of the Desert Softball game with POWER players, that was scheduled for Sunday, July 18th at 6:30pm has been cancelled due to extreme heat warnings. The POWER would like to encourage all fans to keep on the lookout for a rescheduled game, and want to apologize for any inconvenience.