The Palm Springs POWER pitching staff led the way for another victory on Wednesday night at Palm Springs Stadium.  The one-game match up between the POWER and Thrashers was a 5-1 victory for the POWER.  The victory brings the POWER to 14-1 overall, and 9-0 in conference, which gives them the current lead in the Southern California Collegiate Baseball Association.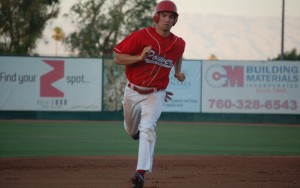 The pitching staff for the POWER didn't allow a hit until the top of the eighth inning with two outs.  The aforementioned hit was loudly booed by the home fans as the call seemed to have been blown. The POWER hitters scored in the bottom of the first, and thanks to the tremendous job by the pitching staff they never had to look back. The POWER scored runs in the first and second along with the sixth inning.
POWER starter Ismael Gutierrez went four innings having no problems with the Thrashers lineup.  He had five strikeouts in his four innings of work, allowing no hits. James Crockett relieved Gutierrez in the fifth inning to get his second win of the season.  Crockett worked three innings allowing no hits with three strikeouts.  Gabe Aguilar pitched the final two innings for the POWER and had two strikeouts and no walks.
Brett Christopher led off the game with a single for the POWER, and then promptly stole second.  He was later driven in by Marcus Romero.  Christopher went three for four with two RBI's, two runs scored, and a stolen base.  Chris Wilson went two for four with a deep drive to left-center that hit the wall.  Second baseman Zack Haley hit a triple in the second inning that plated a run.  Haley ended the night going one for two with a hit by pitch as well.
The POWER return to action Friday night against the SoCal Cardinals at Palm Springs Stadium where it will be 80's Night.  First-pitch is scheduled for 7:05 PM and the gates open up at 6:00 PM.