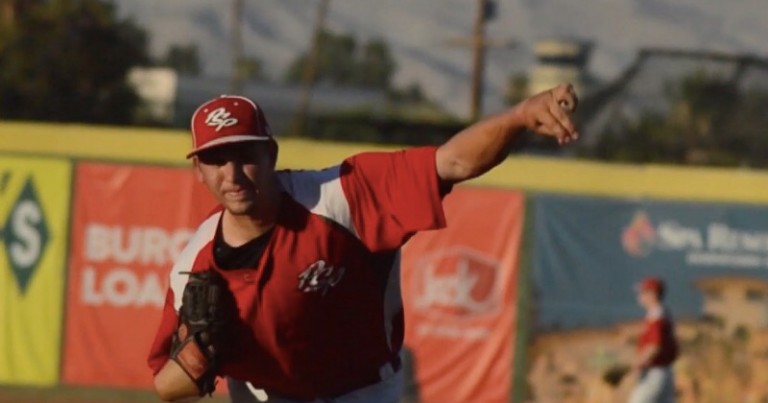 By Mark Cochran
The Palm Springs Power (11-1) defeated the Inland Valley Bucs (5-8-1) 14-6 Saturday night at Palm Springs Stadium.
This is the second win in a row for the Power and their bats have been on fire.
Three home runs were smashed in this game for a total of 11 on the year for the Power offense.
Cody Ducote (University of New Orleans) hit the first one in the very first inning with an opposite field shot that plated two runs. That was his first of the season as he continues to dominate at the plate. He entered the game leading the team in batting average with .467, and with a 1-2 night that will only increase.
First baseman Ryan Mota (Riverside City College) hit the second round-tripper of the night with a mammoth blast to dead center field for his team-leading fifth home run of the season. The Power record for home runs in a season is six by Ryan Jones back in 2013 and Mota is now one swing away from tying it only 12 games into the season.
The third and final home run of the night was certainly the loudest. In the third inning Hayden Schilling (University of New Mexico) hit a grand slam over the right field wall.
"It was two strikes," said Schilling. "I saw a change-up down and he had come up with a fastball before that and I figured he was gonna go back to that so I just thought I would sit on that pitch and see if I could unload on it."
The shortstop's second home run of the season broke it open for the Power who took a commanding 11-0 lead and never looked back.
Started Kyle Brown was dominant with five innings of scoreless ball with six strikeouts and only allowed three hits. This was his first start of the season, and after an impressive outing he has made a strong case to become a regular in the rotation.
"It's a combination of attacking hitters with a good fastball and locating his off-speed pitches down in the zone," said Power manager Casey Dill. "I couldn't be happier with how he did tonight."
The Power will go for the sweep against the Bucs Sunday evening with first pitch set for 7:05 p.m. from Palm Springs Stadium.
POWER Stats/Roster