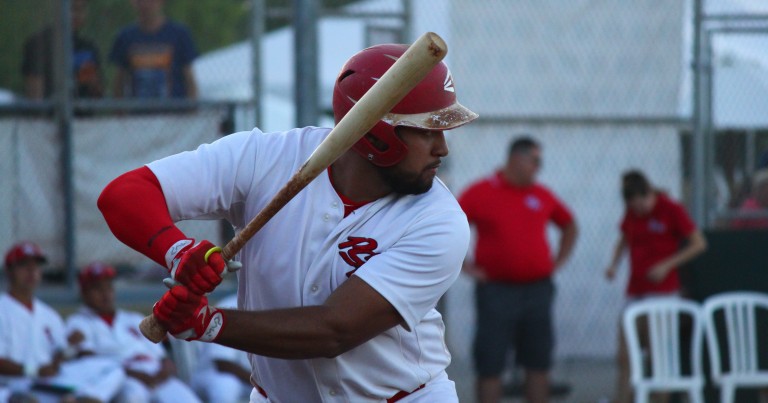 By Alex Gratys
PALM SPRINGS, Calif. – The POWER welcomed the Arroyo Seco Sentinels to town for a one-game series and sent them home with an 11-2 loss at Palm Springs Stadium.
Mercer University right-hander Sawyer Gipson-Long took the bump for the POWER in his first start of the season and delivered five strong innings of work, allowing two runs but striking out four to earn the victory. The win is Gipson-Long's first of the season.
Arroyo Seco threw 6'4″ right-hander Jaret Weiss from New York University. He got off to a nice start for the Sentinels, striking out three in his first two frames, but went down 1-0 in the second following a Taylor Grace (Michigan State) RBI single. Three straight hits in the third would lead to a John Mauldin RBI single to put the POWER ahead 2-0.
The Sentinels would tie things up in the fourth after Brock Bell and Casey Slattery drove in Joe Morin and Johnny Malott with RBI singles of their own. The fourth inning would be the last time Arroyo Seco got a man in scoring position.
The POWER would tack on a couple of runs to take a 4-2 lead, but really busted the game wide open in the sixth, batting around the order with a six-run outburst. Taylor Grace put the game away after a bases clearing double gave him a total of four RBI. John Mauldin (University of New Orleans) had three RBI as well, to go with a stolen base and a run scored in the victory.
POWER relievers Darin May (Riverside City College), Stephen Wells (Harris-Stowe State), Zack Novis (St. Mary's) and Jacob Mesa (College of the Desert) combined for four innings of two-hit baseball to close out an 11-2 victory for the first-place POWER, who advanced to 4-0 in the SCCBL standings.
The POWER continue SCCBL play tomorrow night against the reigning SCCBL champions, the San Diego Force. First pitch is at 7:05, tune in to palmspringspowerbaseball.com for radio coverage!
POWER Stats
Photo Credit: Clinton Cole