Palm Springs, CA – The Palm Springs POWER lost for only the second time in twenty-five games this season on Wednesday night, falling to the O.C. Pioneers by a final score of 4-2.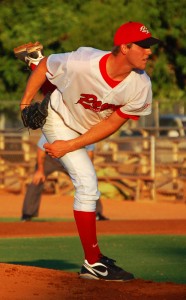 Too little, too late was the theme behind the POWER loss as they didn't find their stroke until the seventh inning, when they got their first hit of the ballgame.  However, back-to-back innings saw the POWER leave the bases loaded even though they were able to get Zack Haley and Brett Christopher home safely in the eighth.  Haley scored on a Chett Zeise hit and Christopher came around to score on a wild pitch later in the inning.
Despite the loss, the POWER still received an impressive performance from their pitching staff.  Craig Rasmussen started and went three innings, giving up only four hits and two runs while striking out one.  Ismael Gutierrez came in and put in four innings of work out of the bullpen, only surrendering two runs on five hits while walking none and striking out three before Jacob Nelson came in and tossed two shutout innings.  Nelson only gave up one hit and two walks while striking out one.
The POWER return to action on Thursday afternoon, when they travel to Vanguard University for their first away game of the season.  They'll take on the O.C. Pioneers in a doubleheader, with the first game scheduled to begin at 11:00 AM.
The POWER return home to Palm Springs Stadium on Friday when they take on the San Diego Force for Wild Wild West Night.  First-pitch is scheduled for 7:05 PM and the gates open up at 6:00 PM.