June 11, 2010 – The POWER bats responded quickly to their first inning deficit with two runs in the bottom of the first.  The hits kept coming as the POWER scored three in the second, seven in the fourth, four in the sixth and one final run in the eighth.  The 17-1 victory pushes the POWER to 6-0 and 3-0 in conference games.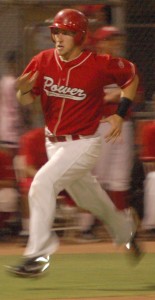 The POWER offense had 16 hits while terrorizing the Dodgers' pitching staff.  All nine POWER hitters reached base at Palm Springs Stadium.  Chris Wilson's two-run triple got the offense started in the first inning, and the first baseman ended the night with two hits, two walks, and three RBI's.  Marcus Romero kept his hot streak going, starting the game with three hits in his first three at bats.  Zack Haley reached base in all four plate appearances with one walk and three hits.  Shortstop Chett Zeise reached base four times with two hits and two walks.  Zeise had three RBI's and a double as well.
The POWER had another great pitching performance from ace Aaron Brooks.  Brooks went five innings giving up a lone run in the first.  He only allowed four hits and struck out three to get his first win of the season.  Craig Rasmussen had a strong effort out of the bullpen for the POWER, with five strikeouts in only three innings of work.  Outfielder Keenyn Walker stepped on the mound in the ninth, primarily keeping his velocity between the 90 to 92 range during his first appearance.  The POWER pitchers allowed a total of five hits, one run, and one walk with 10 total strikeouts.