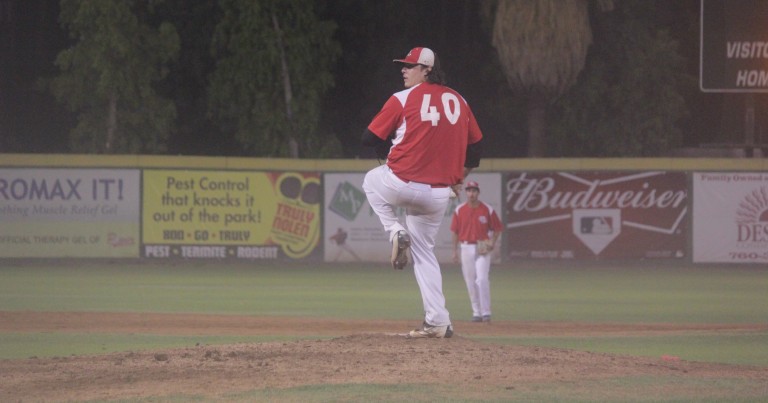 PALM SPRINGS, Calif.- In their sixth-straight SCCBL Championship appearance the POWER could not close out the win for Harry Gurley. The POWER bats could not keep up with the Force pitching staff as they were held to only three runs off of nine hits. Starting pitcher for the San Diego Force, Bobby Orozco, had a tremendous start as he pitched six-plus innings giving up three runs off seven hits. The relief for the San Diego Force proved to be unstoppable as they only allowed two hits in the last three innings.
The San Diego Force impact performer was centerfielder Devin Carter as he went 3-4 with four RBI, a double, and a home run. Carter was a triple away from the cycle and proved to be no match for the POWER pitching.
Starting pitcher for the POWER Matt Acosta did not have his best start as he was taken out of the ball game after giving up four runs off of five hits. The storyline for the POWER was the amazing long relief appearance by Gabe Gentner. Gentner came in the sixth and absolutely shut down the Force batters over the game's final four innings only allowing one hit and striking out eight of the 13 batters he faced. Gentner finished the year with 39 strikeouts in 27 and 1/3 innings of work. Gentner also finished the year giving up only nine hits, six walks, and held a 0.00 ERA the entire summer.
The Palm Springs POWER would like to thank Harry Gurley for his dedication and hard work with the POWER players for the past seven years. With six SCCBL Championships under his belt Harry Gurley leaves quite the legacy here at Palm Springs Stadium.