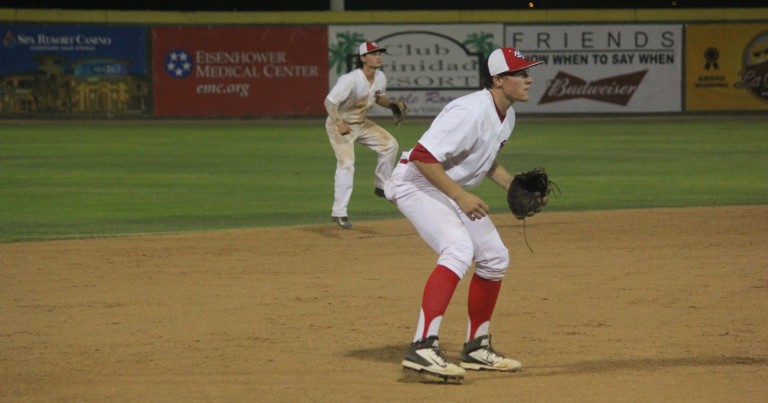 PALM SPRINGS, Calif. – In the second game of the three-game series with the So Cal Catch the Palm Springs POWER were narrowly defeated 10-9 in 10 innings. The POWER jumped out to an early two-run lead after Kaleb Foster (Nevada Reno) led off the 3rd inning with an RBI single. Shortly after, Kobie Foppe (South Mt.) came in clutch with an RBI double off the left field wall and right after his double Taylor Grace (Mich. State) knocked Kobie in from 2nd with an RBI single.
Jake Patterson (COD) was on the hill tonight for the POWER and had a solid performance, going 5.2 innings without giving up a single run until the 5th when Jake Hathaway (U of SF) started off the inning with a single. Later in the 5th Josh Rojas (U of HI) made it a 3-2 Catch lead with a three-run shot.
In the 6th the POWER answered back with five runs of their own coming from big at-bats from Cody Ducote (LSU), Bronson Grubbs (Sac State), and a huge three-run triple from Taylor Grace(Mich. State) as well as a massive RBI ground rule double by power-hitting designated hitter, John Mauldin (BRCC).
A late rally by the So Cal Catch in the 9th tied the game up and sent it into extras. The Catch were able to strike first in extras with a two-run shot off the bat of Jaiden France (OCC).
The POWER were extremely close to making an exciting comeback, stringing together hits to trim the lead back to one. They got the tying run to third base with two outs before Jaiden France closed out the game.
The POWER look to take the rubber match of the series to win the series against the Catch. Game 3 will be on Sunday June 5th where it will be Spa Resort Casino Night where the first 200 fans get a free t-shirt. Game starts at 7:05 p.m., gates open at 6:05 p.m.