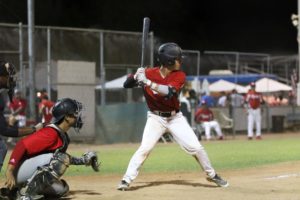 Palm Springs – The Palm Springs Power bounced back with a big offensive night over the OC Pirates on Friday for a 10-6 win. The Power scored four runs in the third and six runs in the eighth en route to victory.
Palm Springs hopped on the board with a nine-batter third inning. Bryan Leef drove home a run with a sacrifice fly. Both Jacob McCaskey and Cameron Schneider brought home runs with RBI singles as the Power drove in four on five hits.
The Power surrendered a run in the top of the fourth on a passed ball to shrink their lead to 4-1. The Pirates came within a run after a two-run single in the seventh, but the bats came to life once more in the eighth inning. Palm Springs sent eleven to the plate, scoring six times on four hits. All their runs and hits on Friday night came in the third and eighth innings.
A three-run rally for the Pirates in the ninth was not enough as the Power found themselves back in the win column to improve to 7-1 on the year.
The Power are back at home on Saturday night. It's half price bottles of beer night beginning at 7: 05 PM. Tickets are available at the Palm Springs Stadium box office.