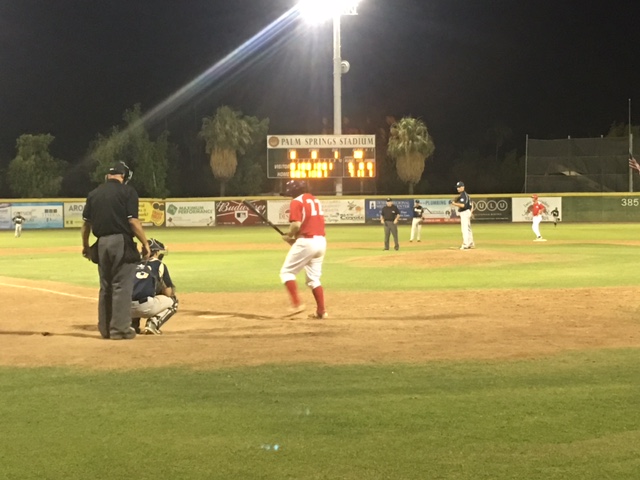 by: Alex Moore
PALM SPRINGS, Calif.- Tonight the POWER (20-7) had a tremendous win over the Arroyo Seco Saints as they strung together 7 runs off of 11 hits to win the ballgame 7-5. That is the POWER's second win in a row as they look to keep their momentum  going into the crucial two-game series with the So Cal Bombers this weekend.
Starting pitcher Morgan Earman was not his best self as he was replaced by Josh Tedeschi in the 3rd inning. Earman lasted 2 1/3 innings where he gave up one run off of one hit. His pitch count was the deciding factor in pulling him.
Josh Tedeschi had an outstanding relief appearance where he pitched from the third inning into the ninth. Tedeschi gave up five hits and struck out eight Saints batters while giving up three runs over his 5 2/3 innings. Tedeschi was absolutely dealing tonight as his slider was the punch-out pitch for most of his eight strikeouts.
Palm Springs POWER broadcaster Clinton Cole caught up with Josh Tedeschi after the game. Tedeschi had this to say about his performance:
 "I am definitely a little sore; I have not thrown that much in who knows how long but coming from a reliever's standpoint I just try and throw as many strikes as a can. I try to keep the walks down, keep the defense involved by putting balls in play and hope for the best."
To close the game, Ryan Mota came in and allowed two batters to get on but would strand them both to close out the victory for the POWER and earn his first save on the summer season.
The POWER bats were outstanding tonight especially in the third inning where the POWER scored five runs. The POWER started off the third inning with three straight hits from the seven, eight, and nine-hole hitters. Cole Danielson and Jason Nall had big offensive nights. Danielson went 3-3 with a double with two runs scored and an RBI, and Nall went 2-3 with an RBI and a run scored.
Palm Springs POWER broadcaster Clinton Cole also caught up with head coach Casey Dill on his thoughts about Josh Tedeschi's performance:
"He's got electric stuff with lots of movement. And when he can stay around the strike zone he is going to get a lot of guys out."
The POWER are back in action tomorrow night for some SCCBL conference play as they take on the So Cal Bombers in a crucial two-game series starting at 7:05 pm. The winner of that series will take sole possession of second in the SCCBL.