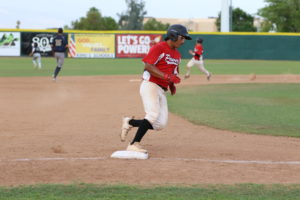 Palm Springs – The Palm Springs Power routed the Arroyo Seco Sentinels 16-2 on Friday nightfor their fifth straight win. It's their largest win of the season so far.
The Power offense began with a Bryan Leef RBI double in the first inning. After an error brought home a run in the second, the Power batted around in the third inning, scoring five times with runs batted in from four players, including two from AJ Barraza.
Palm Springs plated five in the fifth, one in each of the sixth and seventh before adding two in the eighth.Arroyo Seco's offense mustered their two runs in the eighth.
Power Pitching walked nine batters, but allowed just six hits all night. Brett Finnel tossed five shutout innings with a pair of strikeouts while earning the win.
The Power offense put up their largest hit total of the season with 20 to win their eleventh game in twelve contests this season. They move to 11-1 on the year.
The power host an all-uncommitted Power Summer Collegiate League team on Saturday night at 5:05 PM. The roster features the best uncommitted players in the league for a special Fourth of July weekend showcase. Gates open at 4:30 PM. The game will be live streamed like all games this season on the Power YouTube channel.