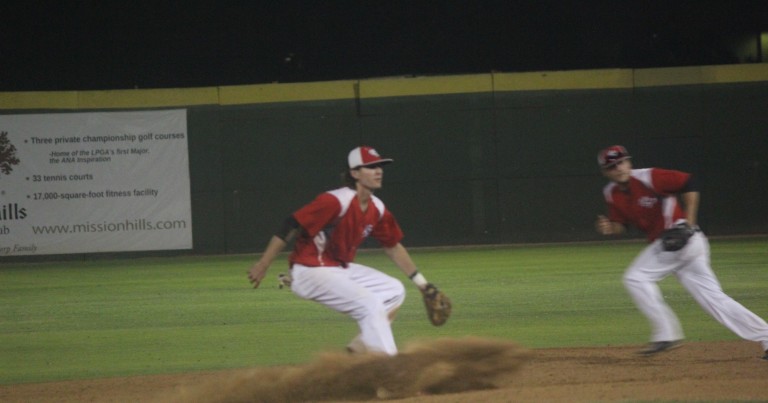 PALM SPRINGS, Calif- The POWER unloaded an offensive barrage on the Arroyo Seco saints, leading to a 10-2 win, their 13th on the season.
Things got off to a strange start as Stephen Ho led things off for the Saints with a single. He would then steal second. As he looked to steal third a moment later, a bad throw from Jorge Garcia (Cal State LA) would lead to an unearned run to make the score 1-0.
Palm Springs did not let that lead last long, however. With two outs and the based loaded, Tyler LaPorte (Baton Rouge CC) hit a two-RBI double. The POWER wouldn't let it stay there as Brock Hale (BYU) would get an RBI double. He would be brought in by a Willie Bourbon (Northwestern) single to make the score 4-1 after the first.
Ryan Mota (Riverside CC) was hit by a pitch in the bottom of the third, and that turned out to be a critical error by the Saints. He was driven in by Gilbert Sauceda's (CSU-Pueblo) sacrifice hit to make the score 5-1.
In the eighth inning with three men on, Kyle Wallau (Redlands) would step up to the plate and drive the final nail into the coffin of Arroyo Seco. He hit a fastball into the corner of right field to make a three-run inside the park home run. Those three RBI would be his first on the season.
The POWER are now 13-2 on the season and are still first place in conference at 2-0. They continue SCCBL play on Friday at 7:05 as the Southern California Bombers are coming to town for a two-game series.