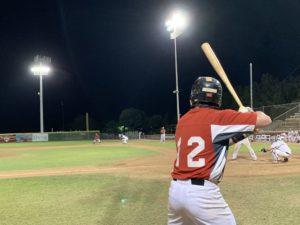 Palm Springs – The Palm Springs Power dropped their first game of the season in ten innings to the San Diego Wave 10-7. It's their first loss since 2019.
The Wave and Power battled back and forth all night, trading runs through the fourth with San Diego leading 2-1.
In the fifth the Wave took two runs to extend it to a 4-1 lead, but the Power tied it in the bottom of the inning. Casey Kleinman, Ryan Rodriguez and Bryan Leef all plated runners with RBI singles. They took the lead in the sixth with a pair of runs.
The lead did not last however, as errors did in Palm Springs who gave up three runs in the eighth. Rodriguez tied the game once more in the home half of the eight with his second run batted.
The Wave dropped three in the tenth inning which proved to be large for Palm Springs to come back from. The Power trailed four different times in the game, but could only come back thrice.
Palm Springs falls for the first time on the year to move their record to 6-1. They'll return to action on Friday night to host the OC Pirates at 7:05 PM.