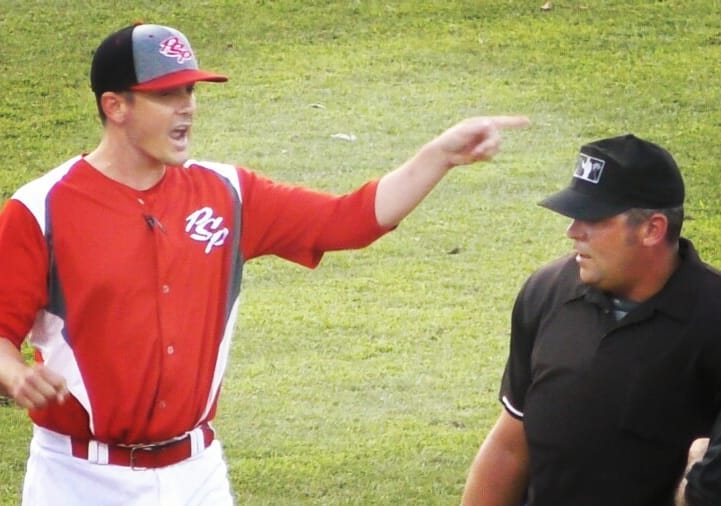 By: Evan Conn
Palm Springs, CALIF. – A pitchers duel through six innings got a little wild in the final third of the game at Palm Springs Stadium Wednesday night and the POWER lose their second straight, this time at the hands of the Riverside Bulldogs, 7-3.  Jonathan Buckley (St. Mary's) threw six shut-out innings in the start for the POWER, before the bullpen allowed seven runs over the last three innings.  The Bulldogs plated three runs in the seventh, which were then matched by the POWER in the bottom half, before the Bulldogs scored four unanswered to end it.
Ben Nisle (Purdue) had the best night at the plate for the POWER and got the offense going in the 3-run seventh with a bunt single.  He finished 3-4 and scored the first run for the home side.  Matt Green (St. Mary's) continues to get on base any way he can, finishing 1-2, reaching base on a pair of hit by pitches, and drove in the POWER's final run on a sacrifice fly.
The POWER starter Buckley cruised through six, only allowing three hits and one walk, while striking out four.  The bullpen had trouble locking down the Bulldogs, with each of the four pitchers out of the POWER pen allowing at least a run. Jacob Corn (Spartanburg Methodist) gets hung with the loss (0-2) Wednesday night, dropping the POWER to 14-3 on the season, and 3-3 in SCCBL play.
The POWER have Thursday off before trying to get back on track Friday when they welcome the Inland Valley Pirates to Palm Springs Stadium for a two-game set.  It's Republican Night at the ballpark, with gates opening at 6 PM and first pitch set for 7:05 PM.