Palm Springs, CA- At Palm Springs Stadium the Palm Springs POWER were unable to capture the Southern California Collegiate Baseball League Championship.  The POWER fell to the OC Pioneers 5-4 in the third game of the championship series.  This was a rematch of last year's playoff series, which the POWER won.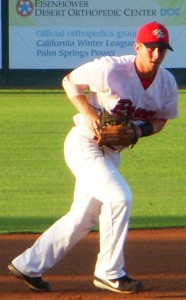 The POWER finish the SCCBL season with a record of 20-3 against conference opponents, including this playoff series.  The overall record for the POWER of 33-4 is the best Palm Springs POWER winning percentage in POWER history.  The POWER did rally in the bottom of the eighth inning with their four runs, but it was not enough for the victory.  Again in the ninth the POWER had the tying run on first, but didn't manage to bring around the run to tie the game.
The POWER broke through in the eighth inning by loading the bases off of an error, single, and another single.  This brought up POWER third baseman Chett Zeise who tripled over the right fielder's head to clear the bases.  Brett Hambright then pinch hit, and promptly singled to right to drive in Zeise for the fourth POWER run.  POWER pitcher Ismael Guiterrez came into relief in the fourth inning and allowed only one hit while going five innings to keep the POWER in the game.
The POWER return to action Friday night against the LA Rhinos at Palm Springs Stadium where it will be Christmas in July.  Fans are encouraged to bring unwrapped toys to receive $5 admission.  The POWER will be giving away over $15,000 in prizes, all fans will leave a winner.  First-pitch is scheduled for 7:05 PM and the gates open up at 6:00 PM.
Saturday marks the Homerun Derby and the 2010 All-Star Game. The Derby will begin at 6:00pm, with the All-Star Game following at 7:05pm. All kids who attend wearing their youth baseball league jersey and hat, and have a baseball glove will receive free admission to the Derby and game, and will be allowed to help POWER players and staff in the outfield of the Homerun Derby.