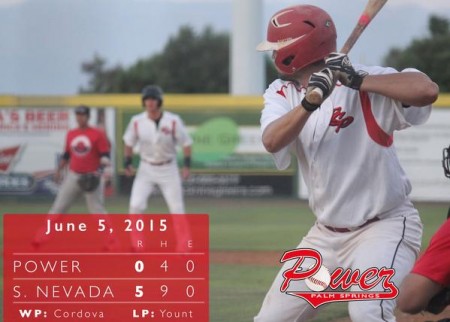 By: Jack Grimse
PALM SPRINGS, Calif. – Just like the temperature on Friday night, the POWER cooled off dropping game one of a two-game series against Southern Nevada 5-0. They lost their first game in a week, falling to 4-2 on the season. Jeremy Alderman (0-1) got a no decision despite a great effort, striking out three over seven scoreless innings.
It could be fittingly described as a pitchers' duel. Alderman was matched by Southern Nevada's Cody Roper, as the two starters exited the ballgame without surrendering any runs. Roper got through six, but also picked up a no decision.
The game remained scoreless until the top of the eighth inning. The visitors loaded the bases with no outs, and Cody Howard singled over the head of Ryan Raslowsky at second base with the infield in to drive in a pair. Neil Lawhorn made it 3-0 moments later, driving in a run on a fielder's choice.
The POWER needed to use three pitchers to make it through the inning. Both Brian Yount and Ryan Avila were unable to record an out, leaving Carter Varga to deal with a bases loaded jam and no outs in his first appearance for the team. Varga, the Mercer University right-hander, was eventually able to retire the side.
Leaving runners on base really punished Harry Gurley's team. Multiple runners were left on in five different innings. The home half of the seventh may have been their best opportunity as the POWER had the bases loaded with just one out, but the middle of the order was unable to get the job done. They left 15 on in total, compared to just six for Southern Nevada.
Avery Sullivan pitched the ninth for the POWER, allowing two runs. David Modler started the rally off with a single, and scored on Tyler Johnson triple.  Johnson scored when shortstop Tyler Baker hit a slow roller to Jonathan Serven that went for an infield single.
A ninth inning POWER rally fell short, as Dylan Garcia popped out to catcher Lawhorn to end the game, leaving Connor Hornsby on second and Daniel Sander at first.
Yount gets the loss, while Zach Cordova picks up the win in relief for the visitors. The POWER are in action Saturday in a double header against Team San Diego. Game one starts at 4:05, and game two will follow shortly after.