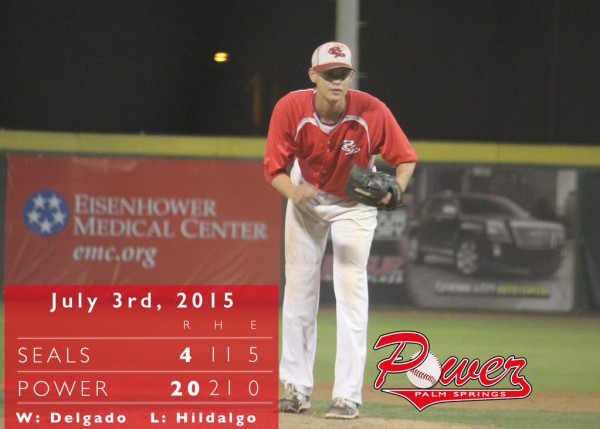 By Tom Liguori
PALM SPRINGS, Calif. – The Palm Springs POWER cruised past the San Francisco Seals in a lopsided affair 20-4 for their 22nd win of the season Friday. The POWER have now won an impressive 14 out of their last 16 games.
The energy was provided early in the second inning when POWER right fielder Connor Hornsby stole home to erase a 1-0 deficit.
From that point on the POWER never looked back. They scored a pair of runs in both the second and third innings on the backs of two hard-hit singles by red-hot third baseman Dylan Garcia and an RBI single by first baseman Jonathan Serven. Over the course of the last week, the POWER's Garcia has increased his batting average to .348.
The POWER made quick work of the Seals' starting pitcher, Pedro Hidalgo, who lasted only four innings after falling behind 5-1. Second baseman Kobie Foppe extended his now 14-game hit streak after reaching base four times. Foppe has now boosted his batting average to .375 since this impressive streak began.
In the sixth inning the POWER's offense exploded against the Seals' bullpen, putting a remarkable nine runs on the board, earning free Jack in the Box tacos for the roaring crowd.
Shortstop Harry Shipley hit a deep two-run RBI double to right field and managed to avoid being tagged in a long rundown between second and third. Shipley added another RBI on a seventh inning single. Dillan Smith chipped in with a pinch-hit, two-run double in the sixth inning that helped push the POWER ahead 14-1.
In the ensuing seventh inning the POWER continued to roll over the opposition's bullpen, adding six more runs to reach 20 runs for the second time this season.
POWER pitcher Angel Delgado bounced back from a short outing in his last start to deliver a very strong seven innings. Assisted by the use of a plus breaking ball, Delgado allowed only six hits and one run, while striking out five. Delgado was also helped out by a highlight-reel (though not as good as this one that saw him on SportsCenter's Top 10 this spring) diving catch by centerfielder Nick Jackson in the top of the fifth inning.
The POWER have now won their 20th home game of the season at Palm Springs Stadium.
Tomorrow evening they will look to take game two from the San Francisco Seals. The POWER will be hosting their annual Fourth of July fireworks spectacular following the game. First pitch is at 6:05 p.m. and gates open at 4:30 p.m.