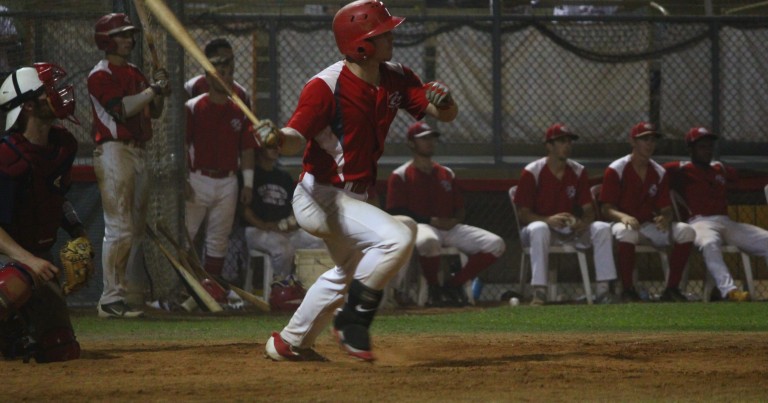 By: Evan Conn
Fullerton, CALIF. – The POWER bats quieted a bit Thursday as they split a double-header with conference opponent Inland Valley Pirates, losing their first game of the season in the process.  They dropped the afternoon contest 3-1, before winning a back-and-forth game in the nightcap 6-4, in their first road games of the summer.  After the twin bill the POWER stand at 11-1 overall, and 1-1 in SCCBL play.
In game 1, Jacob Corn (Spartanburg Methodist) took the loss after relieving starter Jeremy Farraye (Pepperdine) in the 3rd inning.  Corn had both his fastball and off-speed pitches working, but struggled with command.  He finished with 3.1 IP, allowing two runs on one hit and four walks, while striking out two.  The POWER offense put together seven hits compared to the Pirates five, but outs on the bases proved to be critical Thursday. Dillon Sears (Western Illinois) drove in the lone run with an RBI-double in the fifth, finishing game one 1-2 with a HBP.
The second game saw each team take the lead twice and tie the game three times before the POWER finally broke through with two runs in the ninth to secure a split.  Jonathan Buckley (St. Mary's) got the start in this one and delivered the third quality start in four games for the POWER pitching staff this week, going six innings, allowing three runs on eight hits and only one walk, while striking out six. Caleb Mitchell (Mercer) followed him, pitching in both legs of the double header. Combined, Mitchell threw 3.1 innings, allowing one run on one hit and one walk, finishing with five strikeout.  The POWER offense got a little bit of help from everyone in the second game, with Sears being the big performer again out of the nine spot in the order. He dropped down a perfectly-placed bunt single in the ninth, before coming in to score the POWER's sixth run.  He finished the second game 2-3 with a walk and two singles. Darin May (Cal Poly Pomona) locked down his first win of the season by striking out the Pirates in order in the ninth.
The POWER return to Palm Springs Stadium Friday to take on the Inland Valley Bucs in a two-game weekend set.  Gates open as always at 6 PM, with first pitch coming in at 7:05 PM.