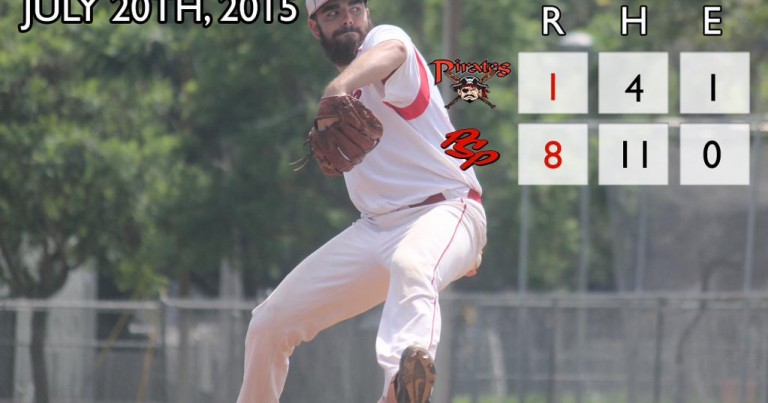 By: Tanner Myers
POMONA, Calif. – The POWER took to the road to begin their first round match-up with the Inland Valley Pirates at Cal Polytechnic University Pomona and came away with an 8-1 victory.
Ace Luke Barker took to the mound to start the game for the POWER, fresh of an appearance in the All-Star Game, Barker looked to continue his success in his seventh start of the summer.
It seemed that the rain from the previous night had not affected the Pirate bats as they began the game with three consecutive singles and brought across an early run to go up 1-0.
The POWER offense was quick to respond and defend their ace. Catcher Cody Gaertner began the inning with a single and was driven in on a Daniel Sander RBI double with one out in the top of the second.
The Pirates looked to keep POWER hitters off balance by making three pitching changes within the first three innings. Despite the plethora of pitching, Palm Springs hitters were able to keep getting on base and set the table for a two-out Cody Gaertner three-RBI, bases clearing double to go up 4-1 and give Barker a bit of a cushion.
Luke Barker quickly settled in and found a rhythm, setting down eight consecutive Pirate hitters. The ball stayed on the ground as six of those eight consecutive outs did not leave the infield dirt.
The offensive fireworks were just getting started as the POWER struck for three more runs in the top of the fourth. Two of the runs came courtesy of a Miles Bice RBI single that brought his season RBI total to 27.
The first inning proved to be the only inning in which Barker would allow multiple baserunners. Following the three consecutive singles, 19 consecutive Pirate hitters were retired by a POWER defense that pulled out all the stops to make sure the streak survived.
Cody Gaertner continued his fantastic day at the plate as he once again doubled in the top of the seventh. Following a passed ball, Harry Shipley hit a soft groundball to shortstop Jeff Nellis to score Gaertner to increase the POWER lead to 8-1.
Luke Barker continued to be effective on the mound as he completed the game, only allowing four hits while retiring 25 of the last 26 Inland Valley hitters. Barker picked up his fourth win of the season to improve to 4-0. Cody Gaertner finished the game an offensive bright spot with two doubles and three RBIs.
The POWER now hold a 1-0 advantage in their first round matchup with the Inland Valley Pirates and will be back in action tomorrow evening for game two. Don't forget that every Tuesday is Dollar Beer Night at Palm Springs Stadium brought to you by Tahquitz Creek Golf Resort.