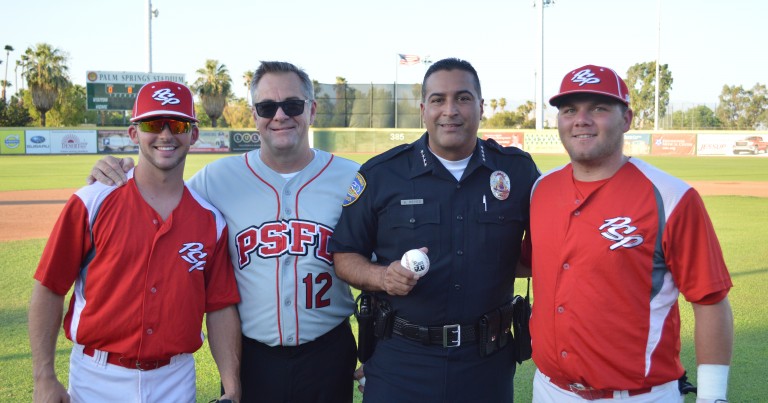 By Alex Gratys
PALM SPRINGS, Calif. – POWER fans were in for another offensive treat on Wednesday evening as Palm Springs defeated the Arroyo Seco Sentinels 14-0. The victory took place in front of a big crowd in attendance for First Responders Night, the same night the POWER won game number 499 in franchise history.
The POWER got things started off early with Skyler Hunter (Purdue) hitting a double then stealing third base, allowing John Mauldin (University of New Orleans) to bring him in for an RBI single. Mauldin would take second base on a balk from Sentinels starting pitcher Jason Whaley. He then scored after Zach Grande (Riverside City College) reached on an error allowing Mauldin to reach home all the way from first base and give Palm Springs a 2-0 lead.
Tommy Bell (Cal Baptist) got the opportunity to hit with Taylor Grace (Michigan State) and Cody Ducote (University of New Orleans) on base after they singled and doubled in runs of their own, respectively. Bell turned on a pitch from Whaley that ended up hitting the left field scoreboard for his second home run of the season and that extended the POWER lead to seven runs.
Jacob Rebar (Utah) took the hill tonight for Palm Springs and tossed five innings of shutout baseball, only allowing two hits. He punched out nine Sentinel hitters, including striking out the side in his last inning of work, earning a win in the victory. Steven Baker (Chico State University), Felix Minjarez (University of Redlands) and Bryan Menendez (UNLV) combined for four innings and struck out six as a relief unit, only allowing three hits. The POWER would rack up seven more runs in the remaining five innings, including a two-RBI double from Taylor Meilleur (St. Mary's) and an RBI single from Billy Johnson (York College) in the fifth inning.
When it was all said and done, Casey Dill went home with career win number 401 and the POWER earned franchise victory number 499 in a 14-0 rout of the Arroyo Seco Sentinels. The POWER improved to 20-3 and have already clinched first seed in the SCCBL playoffs. They will conclude season play this weekend as they take on the SoCal Bombers with first game being Friday at 7:05.
While the POWER are off tomorrow, the team invites you to visit their booth at Street Fest for a chance for free tickets to Friday's game and be in attendance for their first chance to earn franchise victory number 500!
POWER Box Score
Photo credit to Wes Williams