Palm Springs, CA – On July Fourth at Palm Springs Stadium the POWER were able to complete their sweep of the Novato Knicks.  With a strong pitching performance that led to a shutout and clutch hitting the POWER won 2-0.  The win improved the POWER season to 22-1.
The pitching staff for the POWER allowed only seven hits for the game while shutting out the Novato Knicks.   POWER starter Aaron Brooks went six innings and was able to pick up his third win of the season.  Brooks had six strikeouts and allowed only five hits.  He was relieved by Kesley Kondo who went two innings and only gave up a single hit.  The POWER brought in closer Gabe Aguilar who shut the door in the ninth by striking out one and picking up the save.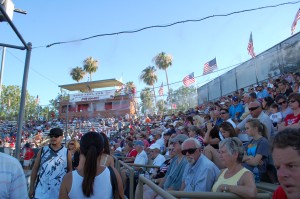 The scoring started in the second inning when right fielder Keenyn Walker reached on a fielder's choice and the stole second and third base.  He was then driven in by POWER catcher Chris LeFay who hit a double down the leftfield line with two outs.  The second run came from a two out double from Brandon Macias in the seventh inning which plated John Haberman.  Macias had two doubles on the night.
The POWER return to action Tuesday night against the OC Pioneers at Palm Springs Stadium where it will be Dollar Beer Night.  Wednesday will be Senior Night where all senior citizens will get in for a discounted price of $5.  First-pitch is scheduled for 7:05 PM and the gates open up at 6:00 PM.