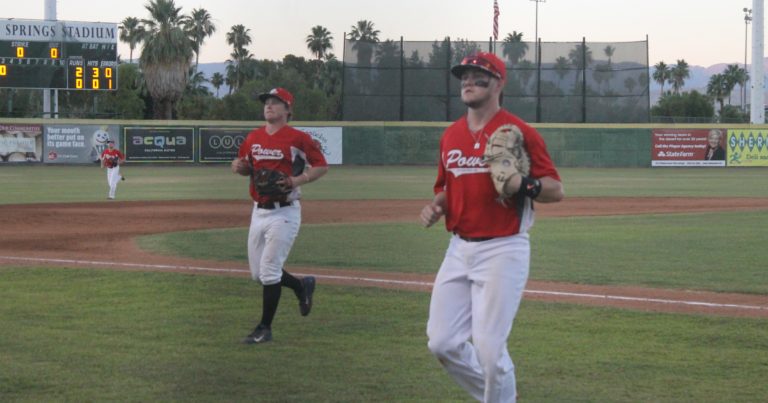 By Kade Overton, Power Broadcaster
PALMS SPRINGS, Calif. ~ After falling behind by 2 runs early in the game the Palm Spring Power use a 7 run fourth inning to bust the game wide open. This was the Power's first deficit all season, but they showed no sign of slowing down and came back to win big. The Power now improve to 7-0 on the season.
Jake Dahle got the start for the Power after being used as a relief pitcher twice to start the season. Dahle surrendered 2 earned runs in the 2nd, but that was all as he pitched 7 innings and struck out 5. Dahle attacked the zone and pitched very aggressively which led to a low pitch count throughout the game.
Matt Green got things started on the offensive side for the Power when he hit his 5th double of the season to score 2 runs and tie the game up at 2.
Then in the 4th inning the Power exploded for 7 runs and didn't look back from there. Landen Barns finished the game 4 for 5 with 3 doubles and 2 RBIs. Barns also extended his hitting streak to 7 games.
Brett Young and Logan Williams joined Barns and Green with 2 RBIs of their own and led the way to an 11-3 victory for the power.
The Power complete their 3 game series with the SoCal Stros Sunday night at 7:05 PM. Sunday is Sunday Funday at the Stadium! Stop by for $2 Bud and Bud Light pints, $2 ice cream, and a free bounce house for the little ones!