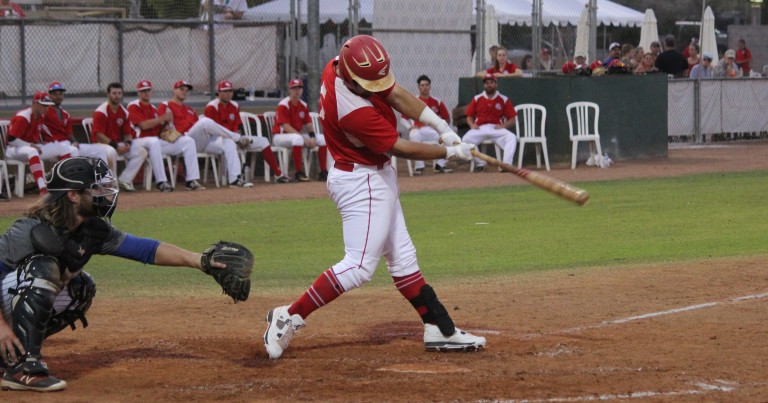 By Steve Sitter
PALM SPRINGS, Calif. – The Palm Springs POWER continued to put up big numbers in their fourth straight victory, defeating the San Francisco Seals 18-2.
Despite giving up a run in the 1st inning for the fourth straight game, the POWER wasted no time in tying it up thanks to a Ryan Mota (Riverside City College) RBI double in the bottom half of the inning. The Seals took the lead again, putting up another run in the 3rd, but Mota again erased it, this time launching a solo home run to left-center field in the 4th.
That's when the bats would really come alive for the POWER when five consecutive hits in the 5th inning from Skyler Hunter (Purdue University), Hayden Schilling (University of New Mexico), John Mauldin (Baton Rouge CC), Mota, and Cody Ducote (University of New Orleans) put up four runs for the POWER, and an RBI double from Schilling in the 6th added to the lead.
In the 7th, eight straight POWER batters reached base safely, including a 2-run single for the POWER debut of Zach Grande (Riverside City College), and a 3-run triple off the bat of Schilling.  When the dust cleared, eight runs had crossed the plate.
With two outs in the 8th, Schilling launched a two-run homer over the right field fence, completing the cycle.  According to Schilling, "I was just hunting first pitch fastball, and just trying to stay aggressive like I have been the past few days. It's been flying out to right a little better the past few days, so I think I got a little lucky with that one."
Starting pitcher Bayley Chesterton (Riverside City College) threw six strong innings to earn the win, striking out five and only giving up one earned run off of six hits. Jacob Mesa (College of the Desert) added two innings of relief, allowing one hit and striking out three. And late roster addition Justin Barber (Tompkins Cortland CC) shut the door in the ninth, adding a strikeout. The POWER advance to 4-0 on the season, all in out-of-conference play.
The Seals return to Palm Springs Stadium tomorrow for the finale of this two-game series at 7:05 PM.