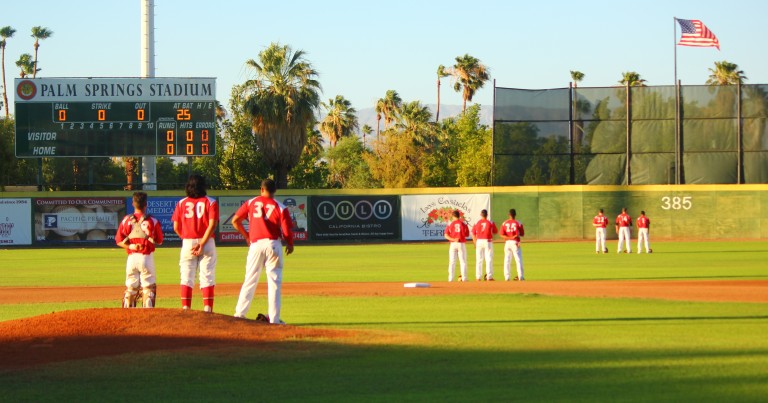 By: Clinton Cole
Palm Springs, Calif.- When people think of summer baseball in the Coachella Valley, they think of the Palm Springs POWER.
Team President Andrew Starke started the POWER back in 2004 and has won SEVEN SCCBL (Southern California Collegiate Baseball League) titles. While seven league titles are impressive, there's another number and accomplishment on everyone's mind these days at Palm Springs Stadium.
Win number 500.
The 2017 Palm Springs POWER has racked up 26 wins in 29 games, giving the franchise 497 overall. They can notch win 500 with conference victories over the Arroyo Seco Sentinels (Tuesday, Wednesday) and So Cal Bombers (Friday).
Getting to win 500 never crossed Starke's mind 14 years ago.
"No, I never thought about 50, 100 or 500 when we started," Starke said when asked about the upcoming feat. "I was just thinking about the first one and then the next one after that."
Manager Harry Gurley, whose number is retired by the organization, was at the helm for most of those wins, but new POWER manager Casey Dill also knows the significance of this achievement.
"The POWER has created a culture of winning that cultivates through all aspects of the organization," said Dill, who was Gurley's assistant last season. "It will be an honor to lead the team on the field for the franchise's 500th win."
Over 450 players have worn the POWER jersey over the last 14 years, and 98 of them moved on to sign professional contracts.
Starke may be the man in charge, but he also knows he couldn't have done it alone:
"I've had a lot of fun over the last 14 years and it's a credit to all the players, coaches and managers who put the uniform on and won the ballgames."
From Harry to Casey and all the assistant coaches and volunteers, to the players between the lines, this truly has been an accomplishment for everyone involved.
The POWER has five regular season games remaining before the playoffs and quest for an eighth league title begins Tuesday, July 18th. Tuesday is $1 beer night and general admission is just $1 on Wednesday throughout the remainder of the season.
For Schedule and Ticket Information, please visit PalmSpringsPOWERBaseball.com