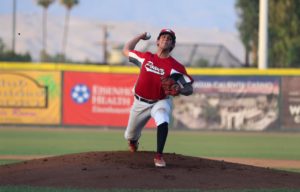 Palm Springs, CALIF – The Palm Springs Power defeated the Inland Valley Buccaneers by a 4-1 final on Wednesday evening for their third straight win to open the 2021 season.
Raul Salazar made his first start of the season for the Power and did not disappoint. Salazar tossed four shutout and hitless innings while striking out six batters, including the side in the fourth.
The Power broke through in the bottom of the fifth inning. With two outs, Ryan Rodriguez was hit by a pitch, followed by an error to allow Bryan Leef to reach. Izayah Alvarez pinch hit and drove in the game's first run with a single. On a stolen base, a throwing error plated Leef to give Palm Springs a 2-0 lead.
Palm Springs added two more runs in their half of the sixth. Josh Hernandez drove in a pair of runs with a single for his first RBIs of the year. The lone run for Inland Valley came on a Christian Carlos infield single in the top of the inning.
Cpriano River recorded the final six outs with a pair of strike outs for his first save of the season.
Palm Springs moves to 3-0 on the season with the 4-1 victory over the Bucs. The Power season continues on Friday night as they host the Arroyo Seco Saints at 7:05 PM, gates open at 6:00 PM.