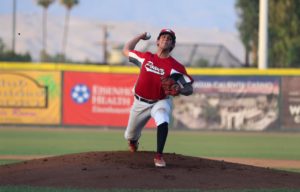 Palm Springs, CA – Saturday was Pride Night at Palm Springs Stadium as the POWER improved to 5-0 on the 2021 season with a full dismantling of the Arroyo Seco Saints, 11-2.
ARS 2B Justin Torres broke a scoreless tie in the 3rd inning with a solo home run to right field, the first of the season by any team in Palm Springs Stadium.
The POWER answered in a big way, plating seven runs in the 4th inning, marked with an exclamation point by 1B Jacob McCaskey's two-run triple. The POWER led from then on with the bullpen allowing only one run to score through six innings of relief.
POWER RP Sakemi Sato earned the win, going two innings, allowing one run. Saints RP Trevor Kniskren was tacked with the loss after allowing 7 earned runs to score in the 4th inning.
The POWER are back in action on Tuesday, facing off against the East LA Dodgers. First pitch is at 7:05 PM. We hope to see you at the ballpark!