PALM SPRINGS, CA – The POWER played their last SCCBL regular season game on Saturday night at Palm Springs Stadium and defeated the Los Angeles Thrashers, 7-3, improving to 38-4 overall and wrapping up their conference play with a 19-1 record.
Palm Springs scored two in the first, on RBI-doubles by David Kiriakos (JR, Vanguard University) and Frankie Torres (JR, Vanguard University).
Los Angeles tied the game in the third. Jonah Northrop, who finished the season 8-for-15 against the POWER, singled with one out and scored on a safety squeeze bunt by Daniel Reitz.  The Thrashers tied it on an Alex Rubanowitz RBI-single.
But the POWER, as they have seemed to do all season, answered back quickly in the bottom half of the frame. Evan Boyd (JR, Mercer University), Kiriakos and Torres singled and Carney Chamberlain (SO, Contra Costa College) added an RBI-double. Palm Springs scored four to take a 6-2 lead.
Rob Ross (SR, Vanguard University) came on in relief of POWER starter Julian Esquibel (SO, Palomar College) and threw three solid innings. His only blemish was a leadoff walk in the sixth that came around to score.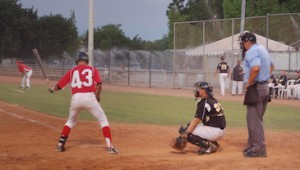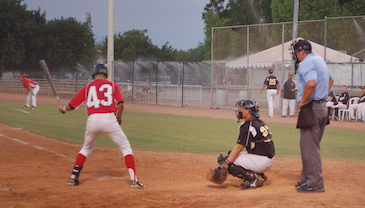 The POWER added one more run in the eighth and held on for the win, giving Ross his first decision of the season.
Game One of the SCCBL championship series will be Tuesday, July 26th at 7:05 p.m. at Palm Springs Stadium as the POWER host the So Cal Athletics. Gates open at 6:00 p.m.
So Cal will host Game Two at Rio Hondo Community College in Whittier on Wednesday, July 27 at 2:05 p.m.  The POWER will host Game Three, if necessary, on Thursday at 7:05 p.m.
Both POWER home games in the playoffs will be $1 Beer Nights at Palm Springs Stadium; all Bud and Bud Light draft beers will cost just a buck.
If you would like to travel with the POWER on the road to cheer on your hometown baseball team, the team will provide a fan bus, pending large enough interest. Trip cost is $25 and includes transportation, a sandwich, a non-alcoholic beverage, and a bag of chips. For more information call (760) 778–4487.
All POWER games can be heard live on www.PSPBB.com. Game Three, if played, will also air locally on NewsTalk 920 KPSI Palm Springs.