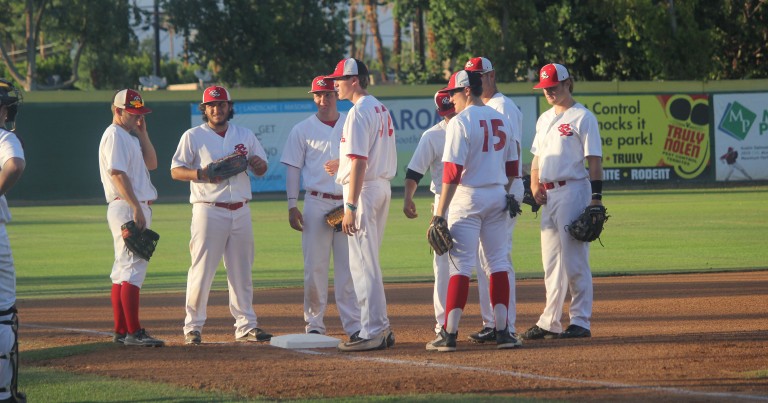 PALM SPRINGS,CA- The Palm Springs POWER absolutely dismantled the Inland Valley Pirates winning the ball game 19-7.
The POWER had 18 hits from all different parts of the line-up including huge nights from John Mauldin (BRCC), Cody Ducote (LSU), Brock Hale (BYU), and Taylor Grace (Michigan State). Those four hitters went 13-17 with 13 runs scored, no strikeouts and had a combined total of 8 RBIs. If the POWER bats continue the way they have been they should have no problem picking up W after W and cruising to the SCCBL Tournament.
Palm Springs POWER broadcaster Clinton Cole caught up with head coach Casey Dill after the game:
"That the first inning was our second-worst inning of the year, in which we gave up four runs in that first," said Dill. "But this team has a lot of quiet confidence, we don't get too high when we are doing well and we don't get to low when we aren't doing well."
The lack of experienced pitching by the Inland Valley Pirates was a tough pill for them to swallow. The Pirates pitching gave up 18 hits, 19 runs, and 6 walks. Starter Charlie Verron had very little pitching experience and was mainly an infielder.
Coach Dill also said, "There was never a point in this game regardless of the score that we didn't think we were not capable of winning."
The POWER improved to 4-1 on the year and will be back in action on Friday for a two-game series with the SF Seals.
Friday's start time will be 6:35 because we are having fireworks after the game. Saturday and Sunday are regular start times at 7:05 and Saturday is Kids Night! Kids 12 and under get into the ballpark for only $2!