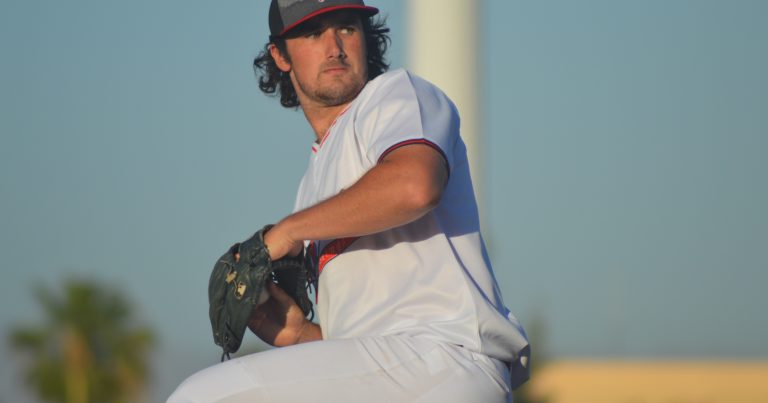 By: Evan Conn, Photo credit to Wes Williams
PALM SPRINGS, Calif. – The POWER pitching was lights out Wednesday night and the bats did their usual thing as the POWER defeated the SF Merchants for the second straight night, 13-0.  The POWER were held scoreless in the first before plating at least one run in each of the last seven innings.  Jack Carberry (Western Illinois) got the start and the win (2-0) for the POWER in his second start of the summer. Dylan Porter (Santa Barbara City College) took the loss on the Merchants side.
SCCBL Player of the Week from last week Matt Green (St. Mary's) got his first off-day of the season, but there was no shortage of offense. Shunto Kamoshida (Keio University) made his presence known in his first POWER game, going 3-3 and reaching base in all six of his plate appearances. Kamoshida was walked twice, hit by a pitch, and also hit the first POWER home run of the season.  Spencer Weston (San Diego State) added four hits for the POWER, including two doubles.
POWER starter Carberry lasted five innings before handing it over to the bullpen.  He allowed no runs on four hits, one walk, while striking out five Merchant batters.  Travis Weston (San Diego State) made his summer debut in relief, tossing two scoreless innings. Cameron Sepede (UNLV) and Caleb Mitchell (Mercer University) each had a scoreless inning to seal the POWER victory.
POWER will be off Thursday before the O.C. Pirates come to Palm Springs Stadium for the first of a two-game set.  Gates open at 6 on Friday, with first pitch at 7:05.