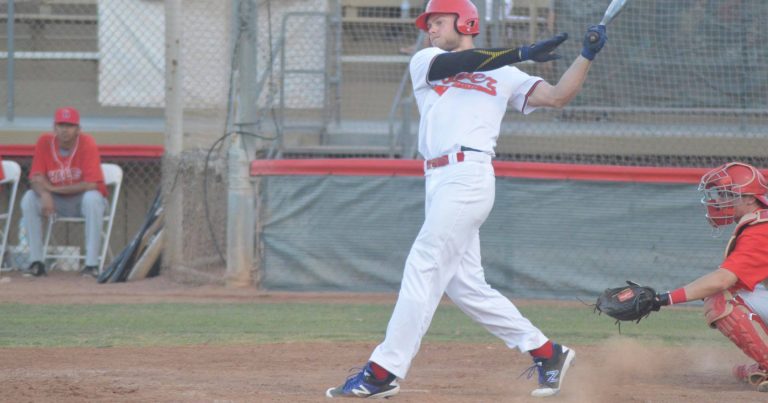 By Colin Fields
Palm Springs, Calif.
The POWER faced the SCCBL-leading Inland Valley Pirates  for the third time and the two teams produced another close, entertaining matchup on Friday night. Hayden Schilling (New Mexico) launched a mammoth two-run home run and Robert Patterson (Reed Martin) pitched 3 scoreless innings of middle relief in his debut, but it wasn't enough as the POWER fell 6-5.
The POWER came into the game with a 3-3 record in conference play, due in part to a split double-header on June 14th against the Pirates at Amerige Park. Friday's game had a similar feel to those first two games, as offense was at a premium and defensive lapses proved costly. The team that avoided the costly error won each of the first two contests, and unfortunately for the POWER, Jacob Corn's (Spartanburg Methodist) two unearned runs in the fourth were the difference in this one too.
Corn's loss was of the hard-luck variety, the big righty looked sharp for most of the night but a few weakly hit singles and a costly error in the field chased him out of his first start early. He gave way to Patterson, who was terrific in his POWER debut, allowing only two hitters to reach base in three scoreless innings.
Schilling's two-out, tw0-run Home Run gave the POWER a 4-3 lead in the in the second, but a three run fourth gave the Pirates a lead they would never relinquish. The POWER mustered only two hits against the Pirates bullpen as they failed to manufacture a run in the last five innings.
The POWER get a chance to split their season series with the Inland Valley Pirates in a huge conference matchup tomorrow night at Palm Springs Stadium. It's Rancho Mirage Night at the ballpark with first pitch coming at 7:05 PM. Gates open at 6 PM.