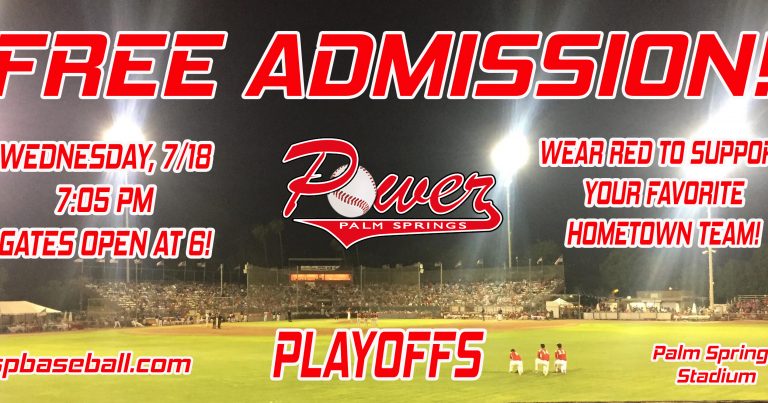 Palm Springs POWER to Offer Free Admission on Wednesday, July 18th for Playoff Game
Game 2 of the Southern California Collegiate Baseball League semi-finals between the POWER and the Inland Valley Bucs will be free for all fans to enjoy at Palm Springs Stadium
PALM SPRINGS, Calif. – The Palm Springs POWER, in conjunction with the SD Project, will host Game 2 of the SCCBL free of charge for fans. First pitch will be at 7:05 PM with gates opening at 6:05 PM. All seats are general admission and will be first come, first served.
"The goal is to create a fun, loud environment and show our players how proud the community is of them for reaching the SCCBL playoffs and competing for a 9th league championship," said POWER Vice President Justin Reschke.
Fans attending Wednesday night's contest are encouraged to wear red and invite friends and family who may not have been to a game before. The POWER, playing their 15th anniversary season in Palm Springs this summer, will take on the Inland Valley Bucs. Game 1 is Tuesday afternoon at Citrus College in Glendora, CA. Game 2 will take place at Palm Springs Stadium and could see the POWER advance to the SCCBL Championship should they win Game 1. The POWER will be competing for their 9th Championship after winning their 8th in 2017.
In an additional effort to support the Palm Springs community and encourage fans to come out for a game, the POWER organization has asked the SD Project to help spread the word to local families in the Coachella Valley. The SD Project is a charity founded by POWER hitting coach Sam DiMatteo with the goal of making baseball and other sports and activities more accessible for under privileged children. The SD Project provides equipment and helps make playing opportunities more affordable for kids all over the world. In addition to helping youth baseball players here in the Coachella Valley, DiMatteo has traveled to Africa, Mexico, Columbia, and the Dominican Republic to provide equipment and coaching for youth players.
"During my professional playing career, I met many players and coaches who wanted to help give back and grow the game of baseball. Now, I get to work with current professional players and friends I've made along the way to help make not only baseball more accessible for children, but many other sports as well," said DiMatteo.
He added "On Wednesday, the POWER organization would like to encourage families who have maybe never attended a baseball game before to come out and see how much fun a game at Palm Springs Stadium can be."
For more information on the Palm Springs POWER and their season to this point, visit www.PalmSpringsPowerBaseball.com.