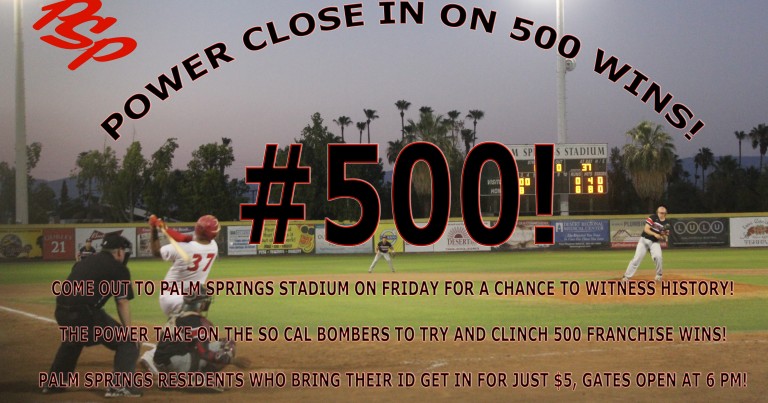 By Alex Gratys
PALM SPRINGS, Calif. – The Palm Springs POWER celebrated franchise victory 499 in a 14-0 rout of the Arroyo Seco Sentinels last night. As they celebrate on this off day, they look forward to Friday evening and their game with the So Cal Bombers (7:05 pm start time) when they look to capture win number 500 as a franchise.
The POWER played their first game on Friday, June 4th, 2004 and since then, they have amassed 499 victories. Over 500 players have donned the POWER white and red jerseys, spending their summers in the desert coming from over 145 colleges and universities. They average just over 38 wins per season as a franchise.
Since their inception, the POWER have won seven conference championships through four different managers, with the support of over 125 valley businesses annually. They are proud to be Coachella Valley's home town team and look forward to being their team for years to come. The POWER also look forward to being a hub for future MLB players to take their talents to. POWER players have gone on to play for 24 different MLB organizations and over 100 independent teams.
The POWER want to invite every resident of Palm Springs to Friday night's game with a special $5 admission to the park when you show your ID with a Palm Springs address. Come out to Palm Springs Stadium and have a chance to witness history as well as support the team that has been behind the valley for the last 13 years!