Palm Springs, CA – In a match-up between first place and last place in the Southern California Collegiate Baseball League, the first place Palm Springs POWER won again.  The POWER defeated the LA Thrashers 8-2 at Palm Springs Stadium.  The POWER improved their record to 27-2 and 17-1 in conference.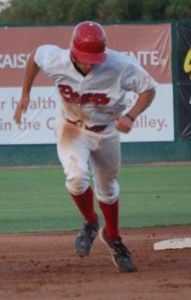 The POWER started the scoring early with two runs in the first inning, followed by runs in the fifth and seventh.  The POWER scored five runs in the fifth inning to pull ahead of the Thrashers.  Marcus Romero led the way for the POWER by going two for four with two doubles and two RBI's.  Centerfielder Corey Black went two for five in the game.  Black had a double, RBI, and two runs scored.  POWER third baseman Chett Zeise went one for three with a walk.  Zeise doubled to go along with an RBI.
The pitching staff for the POWER allowed only six hits in the game.   POWER starter Brandon Love went four and a third innings allowing one earned runs off of three hits.  Love had seven strikeouts on the night.  Ismael Gutierrez relieved Love in the fifth inning and finished the game by going four and two-thirds innings.  Gutierrez was able to pick up the win by allowing no runs on three hits with five strikeouts.
The POWER return to action Sunday night against the LA Thrashers at Palm Springs Stadium where it will be USC Night.  Fans are encouraged to wear USC clothing for the game.  First-pitch is scheduled for 7:05 PM and the gates open up at 6:00 PM.