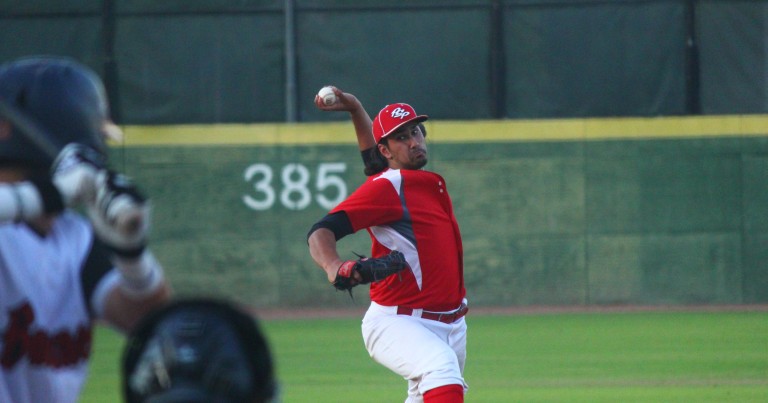 By Alex Gratys
PALM SPRINGS, Calif. – The Palm Springs POWER have been tearing the cover off the ball lately and that didn't stop tonight, as Ryan Mota tied the record for most home runs in a single season with his sixth round-tripper in just thirteen games. The POWER swept the series against the Inland Valley Bucs with an 8-3 victory Sunday evening.
The POWER advanced to 12-1 overall on the year and 7-1 in SCCBL play, thanks to Ryan Mota (Riverside City College) and Hayden Schilling (University of New Mexico) who hit a combined three home runs in this contest. The game itself was actually very close despite the final score, the Bucs used some timely hitting to put themselves up 3-1 going into the fifth. Inland Valley outfielder Christian Lyman drove in Joey Riherd and first baseman Aaron McCann knocked in Lyman with an RBI double in the fourth.
Ryan Mota came up in the bottom of the fourth and unleashed another moonshot to deep left off of Bucs' starter Aaron Bernal. That homer was Mota's sixth of the year and brought the POWER deficit to one run.
"It was our second time through the lineup, he (Bernal) was throwing fastballs the first go around and switched to the off-speed stuff after getting me to ground out. I was prepared for it, just had a better approach next time up," Mota said about his towering drive.
Hayden Schilling came up in the fifth and smoked a pitch to right field for his third homer of the year and tied the game up at three. Schilling would come up again in the sixth and hit a three-run homer to put the game out of reach for good.
"I'm just seeing the ball really well right now," Schilling said about his approach at the plate lately, following his third home run in two days. "I think we're all just trying to hit the ball well and get on base, but the ball just keeps carrying lately. Hopefully we can keep it going."
Jacob Rebar (Utah) took the hill in his third start of the season and tossed five innings, allowing three runs but striking out seven in the no-decision. Relievers Zack Novis (St. Mary's), Andrew O'Brien (Texas Wesleyan) and Bryan Menendez (UNLV) combined for four innings, only allowing one hit.
The POWER earned their 12th victory of the season after their sweep of the Inland Valley Bucs this weekend, 8-3 for a game three final. Palm Springs is off tomorrow but will return to action on Tuesday as the Riverside Bulldogs are welcomed back to town for a two-game series starting at 7:05.
POWER Stats
Photo credit to Clinton Cole