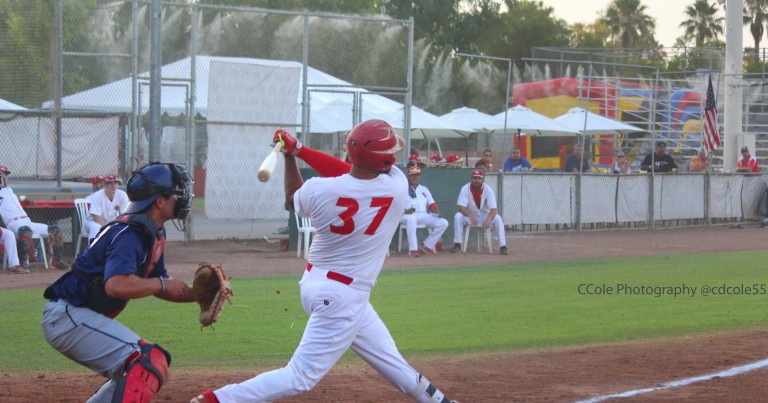 By Mark Cochran
PALM SPRINGS, Calif. – The Palm Springs POWER crushed the Riverside Bulldogs 10-2 in game one of the two game series at Palm Springs Stadium Tuesday night.
The story of the night was Ryan Mota (Riverside City College) who set the POWER single season home run record with his seventh home run of the year. In the bottom of the very first inning with two outs and John Mauldin (University of New Orleans) on first, Mota hit a towering blast that cleared the palm trees in left field. The two-run home run put the POWER up 2-0. Mota broke the record in only 14 games and is on pace to triple the home run record by the time the season ends.
"[We're] very proud of him for setting the home run record so early in the season," said POWER manager Casey Dill.
The other story of the game was starting pitcher Sawyer Gipson-Long (Mercer University) who threw eight innings of shutout baseball. On only 87 pitches Gipson-Long had seven strikeouts and allowed only three hits. He was perfect through the first five innings and it wasn't until the sixth that he finally surrendered his first hit of the game. Designated hitter Max Mircovich hit a high chopper up the middle and despite his best efforts, shortstop Skyler Hunter (Purdue) was unable to reach it. That didn't faze Gipson-Long as he continued to dominate allowing no more than one hit in any inning.
"I felt strong coming into the game," said Gipson-Long. "My pitches were working and I was spotting my fastball. My defense was holding their own back there all those boys had a good game."
The two other batters who made their presence known were catcher Tony Boetto (Santa Clara University) and Skyler Hunter. Boetto went 2-4 from the ninth spot in the lineup with two doubles and two runs scored. One double went down the right field line and the other went down the left field line showing great versatility by the young catcher. Hunter went 3-5 with two doubles, two RBIs and a stolen base. He also show great skill with the glove as he played shortstop for the first time this season and made several key outs.
The POWER return to face the Bulldogs in the second and final game of the series Wednesday night at 7:05 p.m. from Palm Springs Stadium. It is Family Night sponsored by Jack in the Box where all tickets are just $1!
POWER Stats