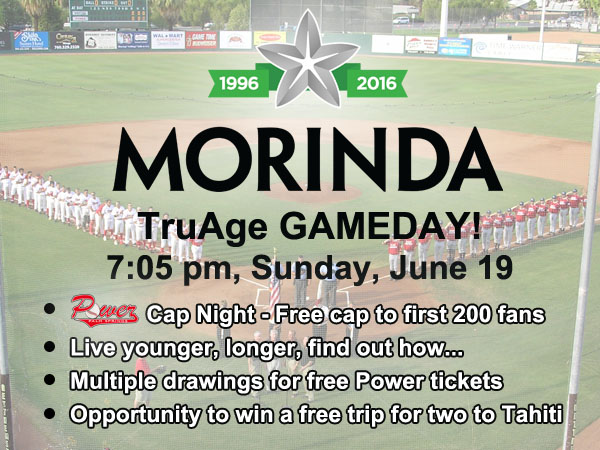 Morinda TruAge Game Day
Live Younger, Longer, find out how…
Sunday, June 19, 2016
In recent years, scientists have pinpointed substances in the body that accelerate the aging process. These substances are called Advanced Glycation End-products, or AGEs. 
AGEs (Advanced Glycation End-products) are harmful compounds that develop in the body when excess sugar and protein combine or are ingested through food. Over time, AGEs accumulate and attack healthy tissue accelerating aging from the inside out. 
Thousands of research studies have linked AGEs to the most common health issues today, including: diabetes, cardiovascular disease, Alzheimer's disease, obesity, skin damage, eye health, kidney health and other maladies. In addition to cholesterol, blood pressure, and body mass index (BMI), AGE levels are one of four key medical markers everyone should know. 
Your TrūAge is a scientific estimate of your internal age based on the number of AGEs in your body. TrūAge is all about performance—the level at which your body (along with its organs, joints, cells and systems) actually performs every day. 
Morinda has gathered earth's best ingredients from around the world to produce the most powerful AGE fighting products on the planet. The TrūAge core products are the world's first and only complete solution to help you manage AGEs inside and out. They will not only help you manage AGE levels, but also help individuals live an active lifestyle that combats AGE development.  Come join us at Palm Springs Stadium on June 19 and find out what YOUR TRUAGE IS!
Those that take a few moments before or during the game to learn their TruAge, will also have the opportunity to win a free trip for two to Tahiti at a future Morinda drawing.  What's more, names for free Power tickets will also be drawn every half inning through the sixth inning!  Additionally, the first 200 fans that enter the stadium will receive a free Power cap, sponsored by a Coachella Valley Morinda Independent Distributor.
If you would like more information about this topic, please contact Sam Briedis at 760-698-8726 or email at bioactivesports@aol.com.
June is A.G.E. Awareness Month