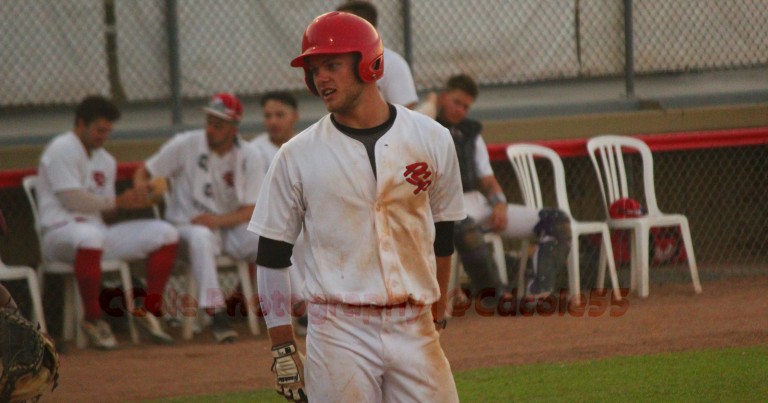 By Steve Sitter
PALM SPRINGS, Calif. – The Palm Springs POWER continued their winning ways in grand fashion Friday night, easily defeating the So Cal Bombers 28-6 in their first meeting of the season.
The POWER would amass an incredible 21 hits in the contest, one of which broke another franchise record.  John Mauldin (University of New Orleans) now holds the record for most career doubles in a POWER uniform with 25.  Mauldin would end up going 4-5 with two doubles, a triple, four runs scored, and two RBIs.
Manager Casey Dill had nothing but good things to say about his offense tonight.  "The best part about it was that we never stopped pouring on runs.  I think what we did best was we never let up. We continued to take good at-bats throughout the game and we were hitting hard balls even when we were up by a lot."
Quite a few POWER players would have great performances at the plate.  Taylor Grace (Michigan State) went a stellar 5-6 with two home runs (2, 3), one double, six RBIS, and five runs scored.  Justin Wylie (San Diego State) went 2-4 with three walks, four RBIs, and three runs scored.
POWER starting pitcher Jordan Dreibelbis (Harris-Stowe State) earned his fourth win in as many starts.  According to the junior starter, "You only have to keep them from scoring more than six and we'll win the ball game.  We don't ever score less than six."  Dreibelbis ended the night throwing six innings, allowing six runs on nine hits and striking out three.  Jacob Rebar (University of Utah) and Darin May (Riverside City College) would finish out the game, combining for seven strikeouts and just two hits.
The Bombers will return to Palm Springs Stadium Saturday at 7:05 PM for the second game of this three-game series.  All children under 12 get in for just $2 courtesy of Desert Air.
POWER Stats