Here at Palm Springs Stadium, we pride ourselves on the festive, family-fun atmosphere created at every game. We always encourage families to bring out the whole gang, no matter their age. We've got all sorts of fun activities for kids throughout the game from mid-inning promotions like the Race to Recycle to the Bounce House in the stands down the 3rd base line. POWER players like Frankie Torres and Nick Baker grew up attending our games, and we hope some of today's fans will hit, pitch, run, throw, and slide in POWER uniforms one day too.
Coloring Contest
Rocky the Ram wants you to draw yourself in uniform! Bring your colored page to the Palm Spring Power's baseball game on June 2nd and get $1.00 kids admission. Plus all coloring pages will be judged for a chance to win a sports bag filled with prizes!
Click here or the picture below to download the coloring page.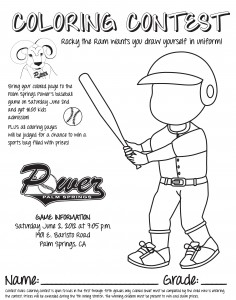 Annual Youth Clinic
Every year the POWER host a three-day camp for local kids where they get the opportunity to learn the fundamentals of baseball along with the skills, and sportsmanship need to succeed in life and baseball from the POWER coaches and star players themselves! The 2011 Youth Clinic was held from June 14th-16th. For more information on the annual POWER youth camp, call (760) 778-4487.

Rocky
Rocky the Ram attends all POWER Home games and loves to bring the family atmosphere to Palm Springs Stadium. Rocky has grown up loving baseball and all baseball fans throughout his life in the Coachella Valley . Look out for Rocky when you come to all POWER games and cheer on your hometown team right here at Palm Springs Stadium with him.

Mid-Inning Contests
The POWER marketing team presents fantastic activities for fans young and old throughout each game, including:
Dizzy Bat Race
Tire Race
Race Rocky
Race to Recycle
Race Around The Bases
Water Balloon Toss
Rocky's Shoe Return
The Seventh Inning Stretch
And more!
Find the POWER in the Valley
The POWER ballplayers will be out and about in the community scooping ice cream, playing Wiffle Ball, enjoying BINGO, and having fun with other activities all through June and July. To find where the team will be, click here.
Bounce House
Just $3 for an all-night pass!