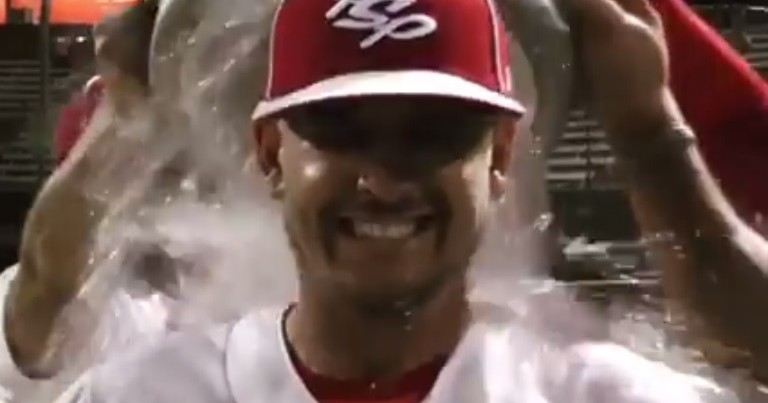 By Steve Sitter
PALM SPRINGS, Calif. – The Palm Springs POWER continued to show their dominance in the SCCBL with a 14-3 victory over the Arroyo Seco Sentinels Tuesday night, notching career win number 400 for manager Casey Dill.
"[I'm] glad that I got to do it in a Palm Springs POWER uniform with this team.  Probably the best vibe and best attitude guys that know how to win every night," said Dill, responding to questions about the milestone win.
Dill has managed three professional teams across two leagues, as well as managing the POWER to yet another first place finish in the SCCBL regular season.  Asked about his team's performance on the night, Dill replied, "I think this is a very similar ballgame to the way we've been winning games all year, just finding the barrel and hitting the ball hard…Tonight was just another one of those nights where we just came out and did everything better than the other team."
The Sentinels scored the first run of the game in the first inning, but the lead would not last long.  The POWER batted around in the bottom of the first, scoring six runs.  They would put up two more in the third and six more in the seventh to cement the victory against the fifth place Sentinels.
The POWER would bat around twice on the night, racking up fourteen hits against five Sentinel pitchers.  Somewhat amazingly, only three POWER batters had a multi-hit night.  Hunter Stratton (San Diego State) went 2-3 with one RBI and one run scored.  Hayden Schilling (University of New Mexico) went 2-4 with four RBIs and one run scored.  Tyler Pritchard (USC) went 2-2 off the bench with one RBI and one run scored.
Starter Sawyer Gipson-Long (Mercer University) went the required five innings to earn his sixth victory in as many appearances.  Five total POWER pitchers would enter the game, striking out a total of nine Sentinel batters while walking just three.
The POWER host the Sentinels for their final regular season meeting Wednesday night at 7:05 PM.  Wednesday night is also Family Appreciation Night, brought to you by Jack In The Box.  All general admission tickets are just $1.
POWER Box Score