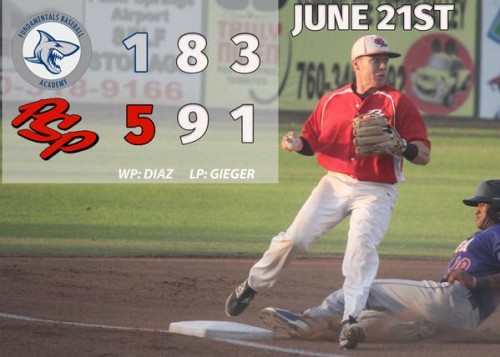 By: Jack Grimse
PALM SPRINGS, Calif. – Although the hitting was almost nonexistent for the first six innings, scoring five in the seventh got the job done for the Palm Springs POWER on Sunday night. The FBA Sharks held on for a while, but Jonathan Serven's pinch-hit double drove in two, and it was all the offense the POWER would require.
Ryan Avila made his first start of the season for the POWER. Even though he allowed just one run in five innings of work, he was saddled with the no decision.
Coming on in relief of Avila was Danny Diaz, who ended up getting the win. The lefty from San Bernardino Valley College threw 2 1/3 innings of shutout ball, striking out three in the process.
The Sharks struck first, grabbing a run in the fourth inning as a Jose Bueno single drove in Julio Espinoza. Despite tallying eight hits in the ballgame, they were unable to muster more than that single run.
Baserunners were hard to come by yet again, as Shark starter Eric Gieger was excellent in a losing effort. The breakthrough would come after the POWER cracked into the FBA bullpen in the seventh inning.
Chad Clark's double moved Cody Gaertner to third. Palm Desert native Serven entered the game as a pinch hitter, delivering a clutch double down the left field line. Moments later, he came around to score on a Court Iorg single, making it a 3-1 game.
Iorg stole second, scoring when Harry Shipley reached on a throwing error. The inning would continue when Kobie Foppe hit a hard chopper that shortstop Anthony Ayala was unable to field cleanly, allowing Shipley to score the fifth run of the inning for the POWER.
It was more than enough run support for the POWER bullpen, as Diaz and Max Compton allowed just two hits over a combined four innings of work.
The POWER are off Monday, but host the Inland Valley Buccaneers in a two-game SCCBL series Tuesday and Wednesday.